A photograph of a teenage Princess Diana reclining across the lap of an unidentified male friend is going under the hammer.
Mystery surrounds the source of the image - which is scrawled with the words 'NOT TO BE PUBLISHED'.
The snap is thought to have been taken at a Swiss ski in 1979 or 1980, which would have made Diana 18 or 19-years-old. A bottle of whisky rests on the windowsill above her head.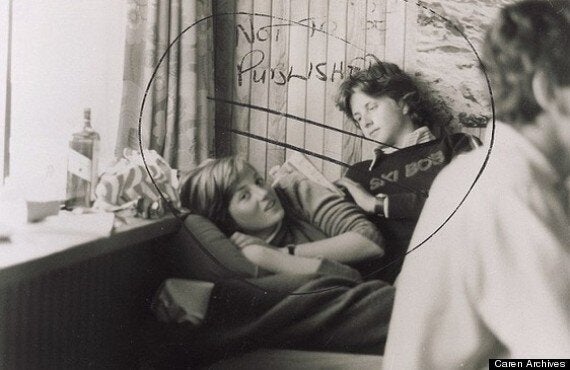 Back in the day: A fresh-faced Diana reclines on the lap of a young man
The image was discovered among the Daily Mirror's old photo archive and is marked with the date 26 February 1981 (believed to be the day it was bought) on the back - two days after Diana and Charles's engagement was officially announced by Buckingham Palace.
"This would certainly not be in the way the Royal Family would have Diana to have been presented."
The paper cites sources who speculate the man may be Diana's former boyfriend Rory Scott, or close friend James Colthurst.
The image is being auctioned through RR Auctions in Hampshire as is being marketed as a "salacious teenage image of the future princess."
The Princess, who was mother to Princes William and Harry, was 36-years-old when she was killed in a car crash in Paris in 1997.