Simon Dunmore founded Defected records, one of the UK's best known dance labels, with Ministry of Sound in 1999. Nearly 14 years on, he's seen off two recessions, the digital revolution and the threat of file sharing, and he shows no sign of stopping.
Still DJing and travelling around the globe in search of new artists, he candidly reveals the mistakes he made in the early years and why everyone loves a bit of Bob Sinclar
How did you get into the music label industry?
In 1989 I worked for EMI which was my first job in a record label. I worked there for five years, starting with doing club promotions and ending up doing A and R (Artists and repertoire – the department responsible for talent scouting and overseeing the artistic development of recording artists).
In 1994 I left to work for Polygram, and I ran a dance AM:PM dance division, which I did for four years. Then in 1998 the Ministry of Sound was performing really well as an independent label, so the major labels' reaction to that was to try and take them out of the market by refusing access to their dance repertoire – Ministry decided to set up their own independent label, and that was the start of Defected.
Ministry offered me a start up fund in 1998, so I left Polygram and it was the 1 January 1999 that I started as founder at Defected. We parted company after about two years from Ministry, because the independence of what we did and the philosophy wasn't aligned, so we had a few disagreements and I decided to pay them back the start up money and then carry on on my own.
In the beginning, we were just a record label who signed and released music, which was enough to sustain the business – we had a small office in west London and employed four people, plus myself. Now we're 24 people and four or five consultants.
I was quite naïve, I hadn't run a label before so getting to learn about leases and company house returns and tax implications, dealing with staff and human resources was all entirely alien to me. For the first two or three years we made some quite big mistakes - not big enough to kill us, but big enough.
Can you elaborate on some of those mistakes?
As an example, there's a society called the MCPS which collects the writers royalties, and even though I'd been in the music industry for 10 years, I had no knowledge of this. After about 15 months of trading they phoned us up and asked for a meeting as we hadn't paid any royalties. We owed them something like £140,000. So that was a bit of a shock – we were planning on spending our money on making acquisitions, and all of a sudden it disappeared.
Since then, the headline moments have been the change that the record industry has gone through and the challenges of downloads and file sharing, then the recession, and the demise of the high street record retailer.
Five years ago there'd be Tower Records, Our Price, HMV, Virgin, Woolworths, even places like Boots selling music, and now just HMV exists and even that's on its way out. Where HMV used to have 50% of the store for music, it's now maybe 15%.
HMV actually approached us and asked if it could retrospectively discount all of the stock it was holding and credit it against the new releases it was buying, and we were like – why would we do that? It makes our position worse if HMV goes out of business!
It's sad but it hasn't embraced the way in which people want to consume music. It doesn't provide a bespoke service any more – it all changed when it tried to compete with Tesco and it was never going to win that battle. So why not let Tesco have the mainstream and instead provide a specialist, informative service? People like to be informed about new music but if you go into a store today they don't even employ specialist staff.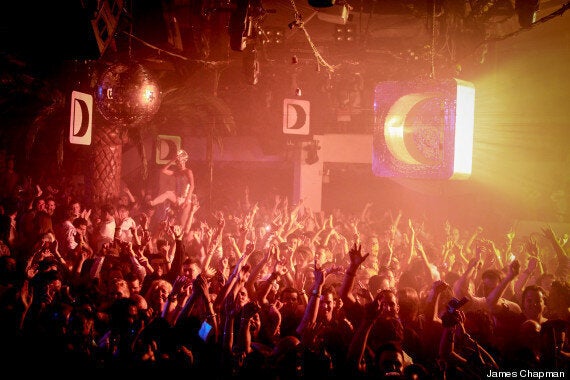 Defected's opening night in Ibiza 2012
What was the biggest challenge for Defected in the early years?
Keeping our business liquid while we made the transition from selling records on the high street to selling digitally has been the biggest challenge.
Other things have changed too - Before you'd have promotions and you'd speak to people on the phone about new releases, and now you speak to your bloggers and directly to the community.
Maybe five years ago when we discussed the campaign of a record, we'd talk about advertising in Mixmag and DJ Mag, street posters, flyers and all the traditional things you'd do to promote music, and we looked at the declining costs and the cost of marketing wasn't going down in relation to that.
We decided to stop everything and decided to promote digitally. Our website had a vibrant community with 70,000 – 80,000 people landing every week and that was the way that we communicated. We filmed our events and put them on YouTube too.
We invested all of our money into going digital really, especially as when some companies acquire music sometimes they'll only acquire the territory which they reside in, so Ministry of Sound for instance will sometimes only aquire the rights of a record for the UK – and we always had a global philosophy, so sometimes if there was a record that had already been licensed in Japan or wherever, we won't take them.
Now there's YouTube and Facebook and Twitter, you can market your records 24/7 and the community will come and talk to you. iTunes now has new stores opening across the world which gives us access to more markets. And other technological advances such as Xbox for music has provided another layer.
How did you find setting up in the middle of a recession?
We've traded enormously on the good will from contacts – having made a lot of friends in the industry I think people like supporting independent labels so we traded on the fact we were trying to fight against the bigger independents and the major labels. Artists like to work with us as we're a bit more touchy feely and have a better understanding of the artists' needs. That helped us get through tough times, the ability to be able to call in favours.
Also, just when cashflow was beginning to get a bit tight, we'd get lucky. It's always seemed to be that way, and it may be that when times get tough we roll up our sleeves and work a bit harder.
For the first two loans we did I guaranteed my house against them. Then the bank asked us me to do it a third time and I said, no, you've been with us now for two years and can see we're ok, and they agreed.
Sometimes when you're feeling bullish about things you forget you've put your house on the line – you've got so much confidence in what you're doing that you don't realise the commitment you've put on it. When you look back, it's quite scary.
Did you look at other ways of getting money?
Since we started in 1999, we've been acquiring the rights to a lot of catalogues – when we started we owned nothing, but now we've got 3,000 recording masters and we've started to collect the publishing rights as well, we've got about 1,500 of those. Now that the company has considerable assets, if finance was to become a problem we could sell or look for a partner.
The main thing for us was to be realistic about the market because let's say you sign an artist, and you get really good responses and a lot of radio play, and your distribution company makes money on you shipping units – so the distributor says, that's great let's go for 60,000, but the following month you have only sold 25,000 and that really hits you hard. It wasn't something I was aware of until the download market really started.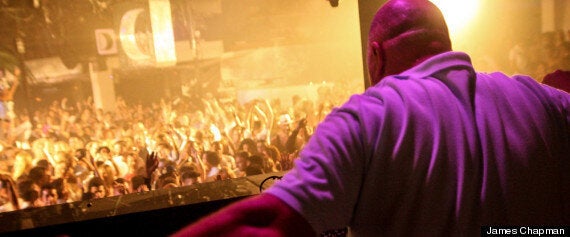 Dunmore spends three weeks a year in Ibiza
Suddenly distributors around the world who had been sitting hopefully on stocks started sending back thousands of unsold records. Sometimes we'd sell £120,000 a month, but get £60,000 worth of returns and when that happens over consecutive months it hits you hard. So we decided to ignore the distributors and just ship what we thought would sell.
HMV would come in and say we want 10,000, and we'd say, no you can have 4,000 and if it sells we can restock quickly. Managing that process was key to us surviving.
Of course nowadays there's no distributing, you upload a file. It used to be that if you had a band on tour in Brazil, you'd phone your distributers and say 'the band's in Sao Paolo, ship it out there to your stores'. Now people can just go on iTunes and download it.
How do you think the industry as a whole has managed the shift to digital?
The music industry's very quick to criticise the digital platform and I think it was because they struggled to get their heads around it. Now it's actually a much better business to be in. Previously you'd promote a record and you wouldn't give it to the end buyer, you'd make them wait. And now people don't want to wait – you encourage piracy doing that – so we make everything available immediately.
We still use sales to file sharers and so on but you have to realise that's how people consume music. I used to tape the top 40 run down and try and cut out the DJ's saying 'and in at number 16 is…' and I taped friends' albums – people are always going to share music, you just have to rely on enough people liking it to sustain you. But music is an art form and it does deserve to be paid for.
It used to be all about the art work in the old days but that seems to have died off…
It did, and people are starting to reinvest in cover art because is makes it stand out. It's so much easier to make a piece of music now. In the old days if you wanted people to hear your music you've have to take it somewhere to get it mastered – nowadays there's no costs associated with creating music so artists make everything available but most of the music is terrible. The key for us is to find the good stuff, the stuff that's better than what everyone else is making.
Who would've ever thought that vinyl would outlast CDs? But it's outselling CDs on our site because it's a collectable format. It's a bit more sexy than a CD in a plastic place.
Do you think that's driven by us harking back to a retro era during these testing times?
Yeah maybe. I see that in fashion of course, a lot of classic brands are coming back in. In music, music goes in cycles and we're quite fortunate that house is having a big renaissance at the moment. Is it because it's just come around again? Or because people are looking for comfort in a recession? I don't really know. But I know that in music it's really easy to take something that was well known and reinvent it and put it out as your own; sampling is a big part of dance music culture.
When did digital start making its impact? And what did you do to fight it?
Napster was the first major sharing site to cross our radar – probably from 2002. We only became aware of it when it was already a problem – dance music is very tech driven and a lot of our followers were early adopters.
We noticed a big decline in our sales so we started to stop promoting the records up front – you used to give a recording to a taste-maker DJ, someone at the time like Judge Jules, Danny Rampling, Pete Tong up to four months in advance, but the filesharers were so militant that they'd take recordings from people's shows, edit it, do their own version and release it, so by the time we released the original there was no market for it anymore.
So we stopped giving the record out to all but a few people we really trusted and insisted it was kept off the radio.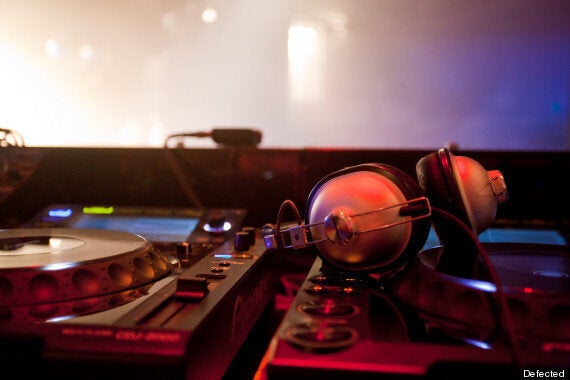 Tours and representing DJs, as well as publishing records helped Defected survive two recessions
That must've upset a few people…
It really upset journalists! But it was a case that it would definitely find its way out there. And then you'd begin to see people try and get around it by putting a jingle all over it, but that upset them more as it showed the label didn't trust them. But now journos are used to not receiving the tracks – they might get a clip or you'd invite them into the office to listen to it if you really trust them. It actually helped us hone in on our contacts instead of scattergunning to hundreds of people.
How does this recession compared to the dotcom one in the early 2000s?
The financial recession was a walk in the park compared to what we experienced with the download revolution. I genuinely mean that. By 2008 we'd acquired a lot of artists so that had value and we could recycle the value at no cost to the business and with the file sharing situation our income probably decreased 15-20% a year, and I'd guess our income decreased by 75% over a five year period.
We got into tours and DJ management after that so if they had a hit, we saw some of the benefit. We diversified into the 360 model early, I'm not sure it totally works but it's important to be involved as many assets as you can.
What was your biggest success?
The greatest achievement was making the transition from people buying music in the high street to recognising that that business doesn't exist anymore and to sustain ourselves on digital sales. Our split now is 85% of our income comes from digital sales and our income hasn't declined in the past four years, and in the past 18 months it's actually increased month on month.
Advances in technology have been a huge help. I still DJ and make an effort to go out there and see everything first hand – it would be very easy to sit in on a Saturday night but DJing forces me to go out and listen to other DJs. In the summer I spend three weeks in Ibiza and I'll honestly be out every night to see what everyone else is playing… but anyway you see people Shazam-ing all the time.
With Shazam, it used to just tell you the name of the song – now it tells you the artist history and the other records they've made through their affiliation with iTunes. Gotye's Somebody I used To Know was Shazamed 12 million times around the world and they had more than 1.5m sales off the back of it.
In club culture, because DJs don't speak on the mic like they used to, now buyers can find out what the record is immediately and buy it. It's been a massive thing for the music industry.
Where do you see yourself in the future?
I'm totally committed to Defected – it's my baby and has been for 14 years. We've picked up some catalogues of a lot of producers and DJs recently and dance recycles itself on a constant basis – a few years ago we picked up the catalogues of (American house DJ) Mark Kinchen and that's the sound you hear everywhere today. We didn't know it at the time of course we just thought it was available for not a lot of money, and now he's working with Jamie Jones and the Hot Natured crew which are among the biggest names around at the moment.
That's the best thing – you never know what's going to be your pay day. David Guetta or Red One could take one of your melodies and suddenly you make money from something that's just sat in your vault. That's our future.
And I have to ask, who's the artist you're proudest of signing?
We still work with Bob Sinclar, that's been going on for 10 years. We released Love Generation and World Hold On and they were great records for us. We think we're cool underground guys, but Bob's our guilty pleasure.
Simon is performing in London at Ministry of Sound on Saturday 9th February.