John Leslie has revealed that false assault allegations made against him ten years ago led to him considering ending his own life.
The former TV presenter was arrested and charged with sexual assault in 2002 after a string of women claimed he had assaulted them. The following year he was cleared of all charges but he says his reputation was forever tainted.
In an interview on 'Daybreak', he said: "I was no angel and I have apologised, but I can honestly tell you, I have never hit anybody or attacked anybody in my life and I would never do that."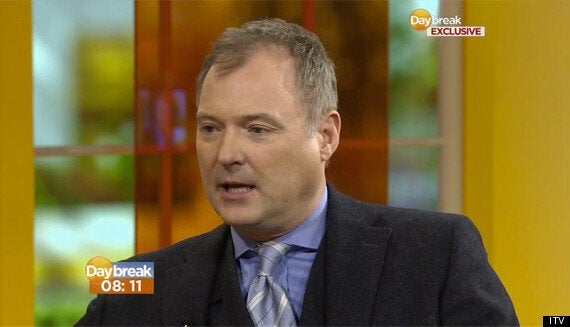 Recalling the day he first found out about the allegations, after Channel 5 presenter Matthew Wright accidentally named him live on air when discussing claims by Ulrika Jonsson in her autobiography, he said: "What happened, basically on the day - doing This Morning as usual - and at the end of it, usually at the end of a live show everyone's a bit up and a bit 'well done', but there was a kind of deadly silence.
"And I'll never forget, my editor came through and she just kind of grabbed me by the hand, took me off the studio floor and she had this look on her face like somebody had died. I didn't know at the time but it was my career.
"And we were taken to a room and she sat me down and she says, 'Well you're not going to believe this but Matthew Wright has named you in connection with Ulrika.' And that was it, it was Armageddon. The press then started to tear my life apart. I lost my job, I was hounded, phones were hacked, my friends were arrested, I was arrested.
"It was worse for my family because of course they were being subjected to this insane kind of press intrusion and attention. And that was the worst bit for me - there was sort of no way of stopping it."
He then revealed that things got so bad that he contemplated suicide.
"Ten years ago the press were not accountable to anybody," he said. "It was a case of trying to work out a way to stop this runaway train and for me it got to a point where I thought the only way of stopping it was to contemplate suicide - I got that far.
"And for me, I love life, I'm larger than life, I love everyday, I wake up and I'm like, 'Yes'. And for me to get to that point, I thought, never has a truer word been said, but if something doesn't kill you, it will make you stronger.
"From that point on it was like, right enough of this, this has got to stop. It's gone too far. So I mean that was the first day of the rest of my life and I kind of started to see a way through it all."
If you've been affected by the issues in this article, please call the Samaritans on 08457 90 90 90.

Popular in the Community