Like the rest of the world we've been mesmerised by Harry Styles' collection of, er, really, really bad tattoos.
In fact, we were so intrigued that we decided to use the skills of HuffPostUK celebrity guru Ashley Percival to decode the meaning behind Mr Styles' bonkers tattoos.
Each piece of 'art' has been numbered and explanations for each are in the box below.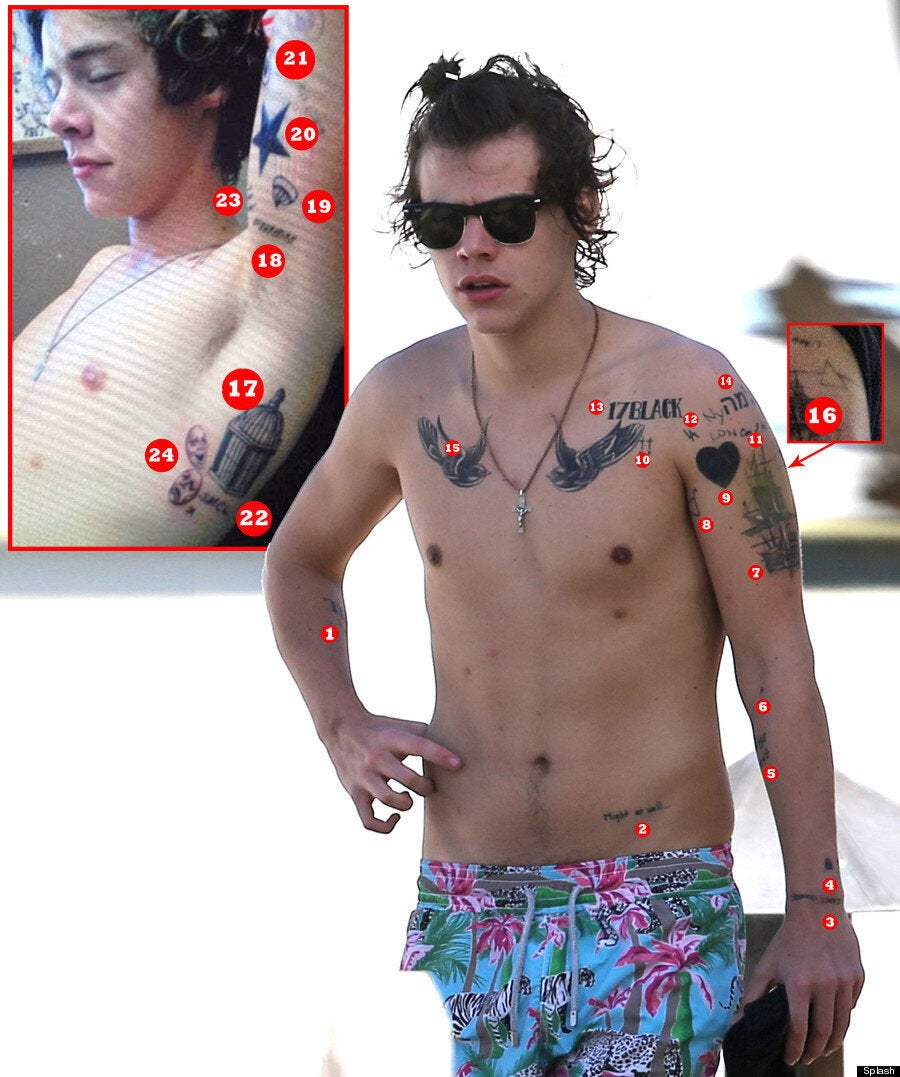 UNLOCKING THE MEANING BEHIND HARRY STYLES' BODY ART

'Things I can't' appears on right arm. See 5
The words 'Might as well...'
'I can't change'
A padlock, key and Shammrock
'Things I can' appears on the left arm. See 1
The letter 'A' for his mum Anne
HMS Victory
A coat hanger
Big black heart
Double crucifix with letters 'M' and 'K' underneath
'Can I Cry?'
Around the globe with a collection of cities including New York, Los Angeles and London where One Direction have performed
17BLACK - James Bond's lucky casino reference
His sister Gemma's name in Hebrew
The double chest swallow
Pink Floyd's iconic Dark Side Of The Moon symbol
A Bird cage
Please help us. We don't know what it says!
An iced gem
Big black star - the first tattoo of many
'Won't stop till we surrender'
SMCL - smile more, cry later apparently
'Hi'
Theatre masks showing comedy and tragedy
If we are wrong, or you've got a better suggestion, please let us know in the comments below.
Related