David Beckham will make a decision on his future next week with the former England midfielder having received 12 formal offers from around the globe.
Beckham, 37, has been made offers from Europe, South America, North America, South Africa, Russia, China and the Middle East - though it is understood not from Qatar.
French Ligue 1 side Monaco are understood to have ended their interest in the midfielder after holding talks.
It is expected that Beckham, whose contract with Los Angeles Galaxy ended before Christmas, will not return to the Premier League in England.
Beckham bids farewell to LA Galaxy fans last year
He was in attendance at Upton Park on Saturday for former club Manchester United's 2-2 draw at West Ham and was seen celebrating Tom Cleverley's opener with his three sons.
Whoever Beckham's sixth club will be his family it has been confirmed his family will be based in London.
The schooling of his four children is understood to be a priority as he ponders offers from different continents.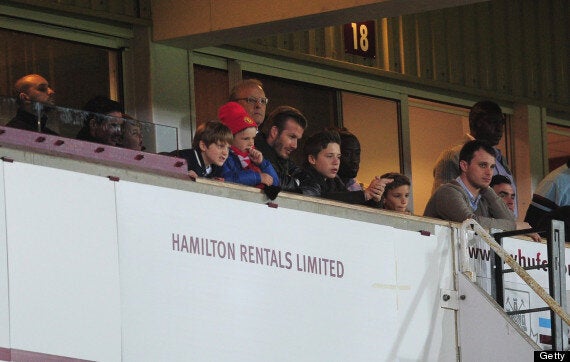 Beckham with his sons at the weekend
Beckham ended his five-and-a-half-years with the Galaxy, winning the MLS Cup for the second successive year when they beat Houston Dynamo 3-1.
The former Real Madrid midfielder captained England from 2000 to 2006 and made his 115th and final appearance for the Three Lions in a 3-0 win against Belarus in 2009.
He spent two loan spells with AC Milan while at the Galaxy and was also loaned out to Preston North End early in his United career.