The chair of Ukip's youth division has been sacked after he revealed he was reprimanded by party bosses for supporting gay marriage.
Olly Neville, 21, chair of the Young Independence wing of the eurosceptic party, took to Twitter late on Thursday night claiming party authorities had "insulted his intelligence" on the issue of gay marriage.
He then posted two screengrabs of emails from Stephen Crowther, chairman of the UK Independence Party, condemning him for comments he made on the BBC's World At One on New Year's Eve, about gay marriage and the European elections.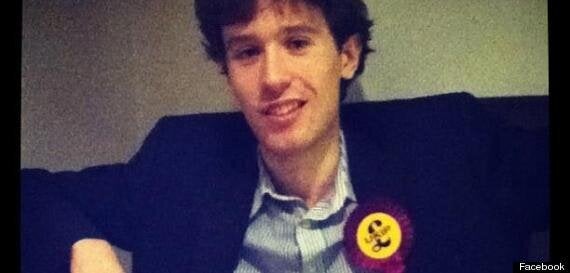 Olly Neville, former chair of Ukip's Young Independence
Neville has since deleted the screengrabs he posted.
The emails, which Ukip has confirmed to The Huffington Post UK as genuine, were critical of how Neville said "a) the European elections were a 'sideshow' and the real action is at Westminster, and (b) that you were a supporter of Gay Marriage and that the Prime Minister was right about it."
Ukip's chairman told Neville that his views on gay marriage were "quite simply completely at odds with the Party's policy [which is] extremely important to us at this time.
"We have said specifically and repeatedly that we are opposed to the government's proposals on this, and that the prime minister has got it spectacularly wrong."
He warned that Nevile might have "seriously set back the party's growth."
Crowther told Neville his views on the European elections, although admitting they were "realistic", were "politically... contrary to party policy.
"To have the (Acting) chairman of YI on record as saying that the win, when it comes, is a "sideshow" will be damaging to us."
Neville was condemned as "politically inept" for his comments about Westminster, for "providing ammunition to the media and our opponents who say we are irrelevant." Ukip does not have any MPs in Westminster.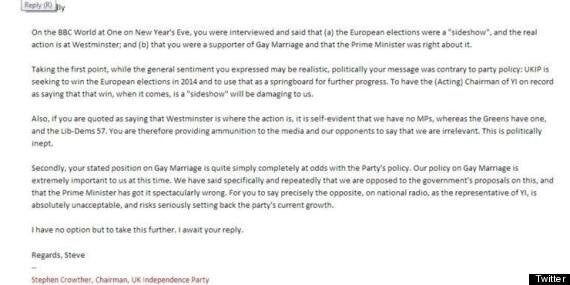 A screengrab of the email sent to Olly Neville by Ukip's Steve Crowther
Ukip's spokesman Gawain Taylor told The Huffington Post UK Neville had not been sacked for his comments on gay marriage, but for subsequent comments, where he "misrepresented party policy".
"There's no doubt people were annoyed about the comments made on the World At One. They were unhelpful. But that was not the reason he was removed."
Taylor refused to confirm exactly which comment led to Neville's dismissal.
Neville told The Huffington Post UK: "The only policy I have been out of line with is equal marriage. Other policies discussed with me have been my questioning why Nigel [Farage, Ukip leader] can comment on drugs and prostitution and me being told that those views expressed by Nigel are totally in line with party policy. The only thing I have differed with them on is Equal Marriage."
Neville posted a second email from Crowther, saying that the party's executive committee had resolved he "should not continue to act as interim chairman of YI, owing to the problems regarding party policy and public statements about which we have corresponded." The email was copied into Jonathan Arnott, Ukip's General Secretary.

A second email sent to Neville by party bosses
"My entire politically active life I have been a member of Ukip. I joined as soon as I possibly could and have done everything I can to help move this party forward."
He wrote: "I thought a party that campaigned for democracy and free speech would advocate something similar for its members, especially the youth wing.
"I feel let down and naive. I have always wanted to believe UKIP is the libertarian party it says it is, but with socially conservative candidates getting away with comments that many find abhorrent whilst libertarian members like myself get heavily attacked I can no longer convince myself it truly is."
Many tweets last night showed an outpouring of support for Neville from party activists, and led to the hashtag #ollyshambles. Gareth Shanks, a YI elections officer, tweeted that he had resigned in support.
On Wednesday morning, YI Yorkshire's chair Arnie Craven and vice chair Christina Annesley both tweeted they had also resigned in protest. Annesley defected to Ukip from Conservative Future in early 2012.
Related