A timelapse video of 1,000 photographs captures the male to female transformation of a 24-year-old transgender individual from Australia.
In a series of images uploaded to her YouTube channel, the user 'iiGethii' maps her three year transformation while undergoing Facial Feminisation Surgery (FFS) - a set of procedures to change typically male features to appear more feminine.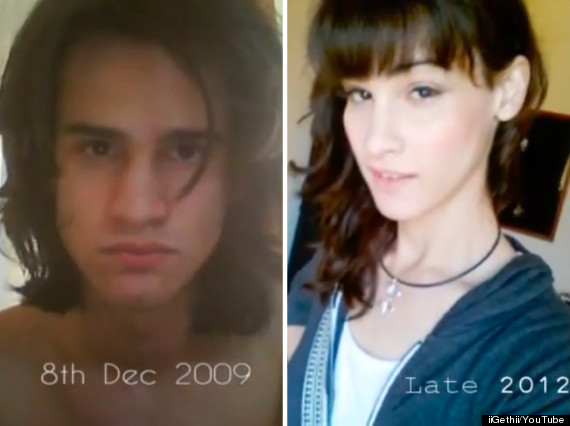 iiGethii before and after
"This video is of me going through a three year transition (Roughly one thousand pictures). I have had FFS during the process," she writes underneath the video. "I started roughly around when I was 20 - 21 years of age."
LIKE HUFFPOST UK LIFESTYLE ON FACEBOOK | FOLLOW US ON TWITTER
The photographs at the beginning of the video, which were taken in December 2009, show a man with shoulder-length brown hair, a thick nose, heavy eyebrows and a wide jaw.
By late 2012 the individual in the photographs has a full fringe, arched eyebrows, a delicate nose, arched eyebrows and a heart-shaped face.
See the amazing transformation in the gallery below