Lance Armstrong scooped Oprah Winfrey by apologising to staff at the Livestrong cancer charity to admit he doped during his seven Tour de France 'wins'.
En route to the recording with Winfrey, Armstrong stopped off at the Livestrong Foundation, which he founded, and said, "I'm sorry" to staff members.
Some employees broke down in tears while according to a person with knowledge of that session, Armstrong choked up as well.
The disgraced cyclist apologised for not making a direct confession to using banned drugs and cheating during his career in the saddle. He vowed he would try to restore the foundation's reputation, and urged the group to continue fighting for the charity's mission of helping cancer patients and their families.
Winfrey is due to appear on CBS This Morning today to discuss the interview. Her interview with Armstrong can be seen on Friday morning 2am GMT on the Discovery Channel, and on Oprah.com. It is a special 90-minute edition of Oprah's Next Chapter.
The confession was a stunning reversal for Armstrong, 41, after years of public statements, interviews and court battles in which he denied doping and zealously protected his reputation.
Even before the taping session with Winfrey began, Armstrong's apology suggested he would carry through on promises over the weekend to answer her questions "directly, honestly and candidly".
The cyclist was stripped of his Tour de France titles, lost most of his endorsements and was forced to leave the foundation last year after the US Anti-Doping Agency issued a damning, 1,000-page report that accused him of masterminding a long-running doping scheme.
About 100 staff members of the charity Armstrong founded in 1997 gathered in a conference room in Austin, Texas, as Armstrong arrived with a simple message: "I'm sorry." He choked up during a 20-minute talk, expressing regret for the long-running controversy over performance-enhancers had caused, but stopped short of admitting he used them.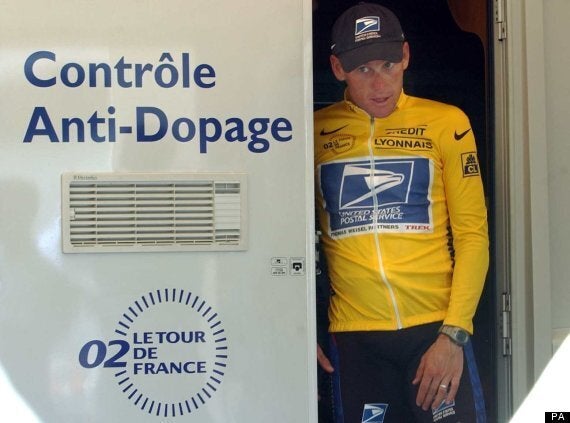 Armstrong was stripped of his seven Tour titles
Before he was done, several members were in tears when he urged them to continue the charity's mission of helping cancer patients and their families.
"Heartfelt and sincere," is how Livestrong spokesman Katherine McLane described his speech.
Armstrong later huddled with almost a dozen people before stepping into a room set up at a hotel.
The group included close friends and advisers, two of his lawyers and Bill Stapleton, his agent, manager and business partner. They exchanged handshakes and smiles, but declined to comment when approached by a reporter. Most members of that group left the hotel through the front entrance, although Armstrong was not with them.
No further details about the interview were available immediately because of confidentiality agreements signed by both camps. But Winfrey promoted it as a "no-holds barred" session, and after the voluminous USADA report - which included evidence from 11 former team-mates - she had plenty of material for questions.
USADA chief executive Travis Tygart, a long-time critic of Armstrong, called the drug regimen practised while Armstrong led the US Postal Service team "the most sophisticated, professionalised and successful doping programme that sport has ever seen".
Armstrong also went after his critics ruthlessly during his reign as cycling champion, scolding some in public and waging legal battles against others in court.
At least one of his opponents, the Sunday Times, has already filed a lawsuit to recover about 500,000 dollars (£312,000) it paid him to settle a libel action and Dallas-based SCA Promotions, which tried to deny Armstrong a promised bonus for a Tour de France win, has threatened to bring yet another lawsuit seeking to recover more than 7.5 million dollars (£4.7m) an arbitration panel awarded the cyclist in that dispute.
The Sunday Times' David Walsh told HuffPost UK only last month he expected Armstrong would eventually confess to doping.
In addition, former teammate Floyd Landis, who was stripped of the 2006 Tour de France title for doping, has filed a government whistleblower lawsuit that accused Armstrong of defrauding the US Postal Service. The Justice Department has yet to decide whether it will join the suit as a plaintiff.
After the USADA findings, Armstrong was also barred from competing in the elite triathlon or running events he participated in after his cycling career. World Anti-Doping Code rules state his lifetime ban cannot be reduced to less than eight years. Armstrong's interview with Oprah will be broadcast Friday morning
WADA and US Anti-Doping officials could agree to reduce the ban further depending on what information Armstrong provides and his level of co-operation.
Whether his confession would begin to heal those ruptures and restore that reputation remains to be seen.
Diagnosed with testicular cancer in October 1996, the disease soon spread to his lungs and brains. Armstrong's doctors gave him a 40% chance of survival at the time and never expected he would compete at anything more strenuous than gin rummy.
Winning the world's most gruelling sporting event less than three years later made Armstrong a hero.