Oprah Winfrey gave an interview about the interview as she spoke to CBS This Morning on Lance Armstrong coming clean about his doping past.
Ahead of the broadcast in two days' time, here's what was learned from Oprah's tidbits...
ARMSTRONG LOOKS GOOD WITHOUT YELLOW
Judging from the promotional picture released, Armstrong is not sporting a Liestrong, sorry, Livestrong wristband. In fact there's not a hint of yellow, as he sports a light purple shirt, rocking the jacket and jean look.
Alas, no. He was wearing one. Livestrong hired a lobbyist to persuade politicians the United States Anti-Doping Agency should have its powers reduced. Is this what a cancer charity should be doing?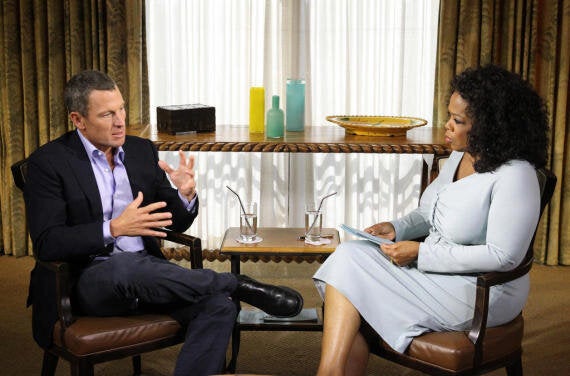 "The blood bag was this big"
A small detail, but both Oprah and Armstrong's glasses of water are bizarrely accompanied by straws as if they are, as Big Tex (that should be Small Tex now) would say, layin' around. And the bottles. Did Lance bring some of his samples along?
The decor is very suspect. Did Discovery fetch the props which were used in the Overlook Hotel during Stanley Kubrick's filming of The Shining?
That's what it looks like on the table. Victory cigars for Oprah or there as a form of torture in case Lance said he was innocent?
So secretive was the tête-à-tête Oprah "hand carried" the tapes of the interview in her bag with dog food. This evokes memories of José Mourinho allegedly being smuggled into the Chelsea dressing room for their 2005 Champions League quarter-final at home to Bayern Munich, despite serving a touchline ban.
Fortunately, Oprah's surreptitious act was harmless. Unless the dog food spilt.