Lance Armstrong has finally admitted to doping during his professional cycling career in an interview with Oprah Winfrey.
Immediately asked a series of yes-no questions, Armstrong answered, "Yes" when asked if he doped.
The disgraced cyclist added he took EPO, used blood transfusions, testosterone, cortisone and conceded his performance-enhancing drug-taking occurred between 1999 and 2005, when he 'won' the Tour de France seven times in a row.
Asked whether he thought it was possible to win seven Tours in succession without doping, he replied: "Not in my opinion."
Armstrong, who did not shed tears in the first of a two-parter, said his drug use began in the "mid-90s".
The Texan was stripped of seven Tour de France titles and banned from sport for life after the United States Anti-Doping Agency found him to be a central figure in "the most sophisticated, professionalised and successful doping programme that sport has ever seen".
In the interview with Oprah, recorded on Monday in his home city of Austin, Texas, the 41-year-old was asked why he admitted to his misdemeanours now. "I don't know that I have a great answer," he said.
"This is too late. It's too late for probably most people and that's my fault.
The Texan however denied USADA chief executive Travis Tygart's claims that the United States Postal Service doping programme was the leading one of its kind, believing the East German regime to be 'better'.
"It was definitely professional, it was definitely smart, but it was very conservative, very risk-averse, very aware," Armstrong said.
"But to say that that programme was bigger than the East German programme in the mid-80s, it's not true."
Sporting a yellow Livestrong band on his right wrist, Armstrong was adamant he did not dope or perform blood transfusions in 2009 or 2010, when he made his comeback to the sport.
"The last time I crossed that line was 2005," he claimed. "That's the only thing in that whole [USADA] report that really upset me," he said. Armstrong was stripped of his seven Tour titles
Armstrong denied riders had to comply to a doping programme to compete for the team, but admitted his personality could imply that.
He said: "Yes, I was a bully. I was a bully in the sense I tried to control the narrative."
Armstrong said using performance-enhancing drugs did not feel like cheating.
He said: "That's like saying we have to have air in our tyres or water in our bottles. It was part of the job.
"I looked up the definition of cheat and the definition is 'to gain an advantage over a rival or foe' and I didn't view it that way. I viewed it as an open playing field."
"I don't want to make any excuses, but that was my view and I made those decisions."
Armstrong was reticent when talk turned to Dr Michele Ferrari, who maintains his innocence.
"Michele Ferrari is a good man and a smart man," said Armstrong, who denied the Italian doctor was the leader of the doping programme at US Postal.
"I'm not comfortable talking about other people," he replied. Although he did acknowledge he had been reckless.
He added: "There were plenty of other reckless things. That would be a very good way to characterise that period of my life."
Having retired in 2005, Armstrong insisted he would not have been exposed had he not made a comeback in 2009.
Floyd Landis, a former Armstrong teammate, was stripped of the 2006 Tour title for using testosterone but turned whistle-blower when Armstrong returned to cycling in 2009.
"The comeback didn't sit well with Floyd and so that period began this," Armstrong said.
"We wouldn't be sitting here if I didn't come back."
Pressed about the 2001 Tour of Switzerland and reports he paid off the UCI to cover up a positive test, Armstrong said: "That story isn't true. There was no positive test. There was no paying off of the lab.
"There was no secret meeting with the lab director.
"I'm no fan of the UCI. That did not happen."
He added he made the donation to the UCI "Because they asked me to. It was not in exchange for any cover-up.
"I have every incentive to sit here and tell you yes, that's right."
He admitted he received a back-dated therapeutic user exemption certificate for coricosteroids at the 1999 Tour to ensure he did not test positive after evidence was provided by Irish masseuse Emma O'Reilly, who Armstrong later labelled a "whore".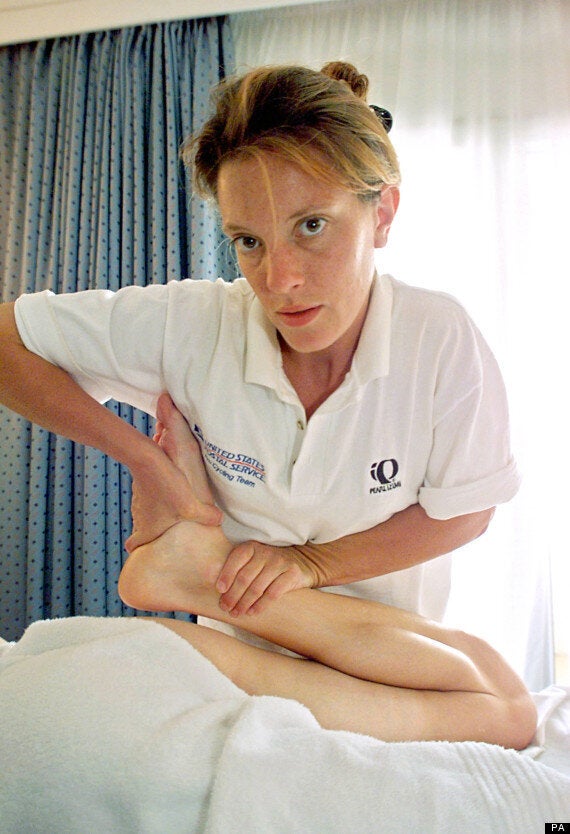 O'Reilly tends to Armstrong in 2004
Armstrong said: "She is one of these people that I have to apologise to. She's one of these people who got run over, got bullied."
Armstrong added he had a 40-minute phone conversation with Betsy Andreu, wife of former teammate Frankie, whom he called "crazy" after she said Armstrong had admitted to taking EPO in hospital in 1996 as he was treated for cancer.
"I've called Betsy Andreu," he explained. "She took the call. It was a confidential, personal conversation. It was 40 minutes long."
"I haven't made peace because they [the Andreus] have been hurt too badly and a 40-minute conversation is not enough."
When the United States Department of Justice dropped a two-year investigation into the doping practices of Armstrong's US Postal team, he thought he was "out of the woods".
Related