Lance Armstrong told Oprah Winfrey he did not deserve the life ban "death sentence" imposed on him by the United States Anti-Doping Agency.
In the second part of his interview in which he finally admitted to doping during his cycling career, the 41-year-old complained his penalty was harsh.
"I got a death penalty and [other cyclists[ got six months. Do I deserve this? I deserve to be punished but I'm not sure I deserve a death penalty."
Asked whether he believes his life ban should be overturned, he said: "Selfishly, yes. But realistically I don't think that's going to happen. And I have to live with that."
After the first part of the interview detailed Armstrong's confessions and doping, talk turned to his tainted Livestrong foundation, who provided the bullying cyclist his lowest ebb.
The foundation dropped the disgraced cyclist's name last year, a move Armstrong said was his "most humbling moment".
"The one person I didn't think would leave was the foundation," Armstrong said. "And that was the most humbling moment. To get that call. The Livestrong wristband is now synonymous with deceit
"The foundation is like my sixth child and to make that decision was big. I was aware of the pressure and yes, I had interactions with some of the board members, but it was the worst thing and it hurt like hell. That was the lowest."
He added that the foundation could recover from his confession. "I certainly hope so." he said.
Armstrong denied the aggressive cancer he suffered was due to taking performance-enhancing drugs.
"I don't think so. I've never had a doctor tell me that but I don't believe so," he told Oprah.
Oprah again wasn't rigorous enough with Armstrong however. On occasion, she began chuckling during the conversation rather than pressing a self-confessed manipulator, and Armstrong looked like he was enjoying the scenario. Less Frost/Nixon, more Alan Carr/David Walliams.
When asked whether he would say sorry to David Walsh, the Sunday Times journalist who pursued Armstrong doggedly for 13 years, Armstrong replied: "I'd apologise to David."
Regarding the infamous tweet Armstrong posted of himself "layin' around", he conceded it was "defiance" but "another mistake".

"Yeah. That was another mistake. That was more defiance. And what's scary is I thought it was a good idea at the time," he said.
Armstrong's interview is beamed into the lounge of an American family
Armstrong confirmed he has been undergoing therapy to deal with his demons.
Winfrey also asked Armstrong "Did anyone know the whole truth?" He replied "Yeah," but there was no follow-up.
Armstrong revealed his ex-wife, Kristin, had asked him to stop doping.
"If I could say one name it would be Kristin. She's a smart lady who believes in honesty and integrity. She came at it from her religious standpoint but it doesn't matter, we have three kids together and they deserve a dad who is viewed as telling the truth to them."
Armstrong became tearful when talk turned to his son Luke, 13, and when he had to tell him his father was a cheat and a fraud.
"They [his children] know a lot. They hear it in the hallways, him and the girls. The schools and their classmates have been very supportive. But hen the feedback comes, on Facebook, Instagram, Twitter.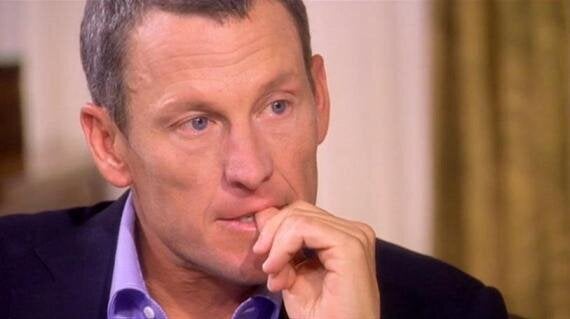 Armstrong chokes when recalling the moment he told his son he was a cheat
"When this all really started I saw my son defending me and saying 'That's not true. What you're saying about my dad is not true.' And it all goes to this question 'why now?' He trusted me. And he hard about it in the hallways.
"That's when I knew I had to say something.
"I said listen, there's been a lot of questions about your dad. I've always denied that and I've always been ruthless and defiant, which makes it even sicker, and I want you to know that it's true. And there were also my daughters, who are 11, and Luke. And they didn't say much. They didn't say 'but wait Dad', they just accepted it. I told Luke 'don't defend me anymore. Don't'.
"He's been remarkably calm and mature about this. I said if anybody says anything to you, some kid says something, do not defend me, just say my dad says he's sorry."
When pressed on what his son said, Armstrong replied: "He just said 'I love you, you're my dad, this won't change that.' Thank God he's more like Kristin than he is like me." Some said Armstrong's "control freak" streak was apparent during the interview
Money is now a major concern for Armstrong.
"I've lost all future income," he said.
"I don't like thinking about it, but that was a $75million day. Gone. And probably never coming back."
Armstrong denied claims he attempted to make a payment to USADA.
He said: "I had no knowledge of that, but I've asked around. I think the claim was $250,000. That's a lot of money. I would know. That is not true."
When asked what the moral to the story story was, Armstrong replied: "I don't have a great answer there."
Oprah ended on a mawkish note, telling Armstrong she hoped the truth would "set him free" and "Thank you for trusting to me to do this." Despite the admissions listed in their conversation, there was a distinct lack of contrition from one of sport's most infamous frauds, or probing from Oprah.
Related