One hundred flights have been cancelled at Heathrow so far on Saturday amid reports that the hub airport is like a "refugee camp" due to weather-related disruption.
A spokeswoman said that although weather conditions have improved, about 100 flights have had to be cancelled in a "recovery" from Friday - 67 of which are departures.
"In terms of how today is going so far, the weather conditions are much better today. The runways are open.
"We do have about 100 cancellations at the moment, but that's really just recovery from yesterday.
"Two-thirds of that 100 - 67 of the cancellations - are departures, and the remainder are arrival cancellations.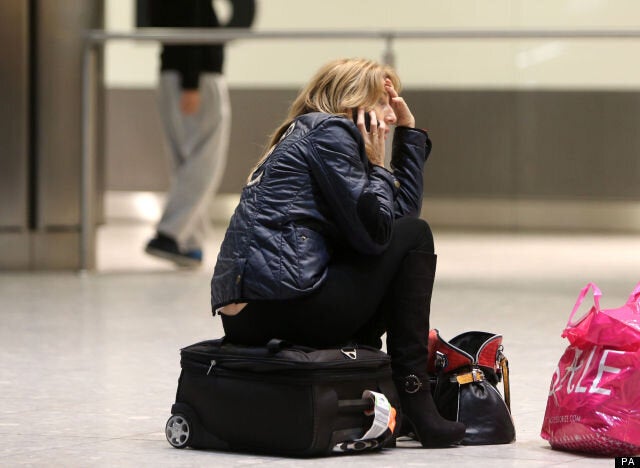 Two in three of the flights have been cancelled to catch up from Friday's havoc
"At the moment the airport is operating as usual. We have the same number of aircraft using the runways as we normally would," the spokeswoman said.
Meanwhile, Simon Calder, travel editor of the Independent, painted a bleak picture when he told the BBC that Heathrow looked like "a refugee camp", with people sleeping on the floor.
Calder said people were angry at the lack of information and the short notice of flights being cancelled.
He said people were stuck on planes "for many hours" last night as they waited to take off because the rate at which planes departed was dramatically cut.
There are delays of up to 20 hours on flights arriving from Europe, he added. Heathrow cancelled 400 flights on Friday due to the snow
British Airways had to cancel "in the region of 30" flights on Saturday due to what it says is "knock-on disruption from yesterday".
A spokesman for BA said: "We have unfortunately had to make a number of cancellations today, mainly due to knock-on disruption from yesterday, so we've got a number of aircraft out of position and it's quite a complex operation to put that back together, so that's what we're working on at the moment."
Commenting on the number of flights affected, he added: "It's in the region of 30. Those are predominantly short-haul flights to domestic and European locations."
BA is now offering customers who no longer wish to travel this weekend the chance to rebook their flight for a later date.
It is also providing refunds and overnight accommodation to those who could not fly, or letters for them to make a claim at a later date. Heathrow are offering passengers the chance to rebook their flight
Following a joint decision by Heathrow, airlines and air traffic control, the flight schedule at Heathrow on Sunday will be reduced in an effort to minimise the expected disruption caused by snow and low visibility.
Latest forecasts for Sunday show a high probability of around 0.8in-2in (2cm-6cm) of accumulating snow and low visibility at periods throughout the day.
Heathrow said this will reduce the capacity of the airport and without action would cause significant disruption to passengers and flights.
The flight schedule will therefore be reduced by 20% and details of which flights will be cancelled will be announced by airlines when they have finalised their schedules, a statement said.
Passengers were also warned it is possible that weather conditions at other European airports will increase the number of cancellations.
Passengers due to travel tomorrow are urged to check the status of their flight with their airline before travelling to the airport. Crowds of passengers have been stranded at the airport, waiting for a flight
Philip Mueller, a Swiss student, said on the Heathrow Express train this morning that he hoped his flight to Zurich would be departing as scheduled.
"I was going to ski today but I can't now," he said.
Husband and wife David and Janet Brindle, from Cumbria, branded BA's customer service and treatment of passengers caught up in the chaos as "appalling" and said "people were close to tears".
The couple were due to set off on the holiday of a lifetime - five weeks in New Zealand - yesterday morning, but are still at Heathrow after missing their Air New Zealand flight.
Hundreds of people are currently queueing at BA's check-in desks in Heathrow's Terminal 5, desperate to get to their destinations - but the queues are moving extremely slowly. Complaints of uninformed staff, or a total lack of assistance, were common complaints
Aoife Bergin, 29, from Co Westmeath in Ireland, is looking forward to a three-week holiday in Tokyo with her boyfriend, but has been standing in the queue for almost two hours.
"We've been on this one for about an hour and we were in another one for about 45 minutes.
"They told us to move to this one because it might be quicker," said Miss Bergin.
She also poured scorn on BA, saying the airline has not kept passengers informed at all.
"They haven't announced anything. There was nothing on the website this morning when we checked. Scores of passengers say they have been left uninformed by airport staff
"The staff don't know anything to tell you. There's not enough staff here for the passengers," she said.
Tempers were becoming frayed in Terminal 5, with winding queues resulting in accusations of queue-jumping by frustrated passengers.
One Australian man on his way to a conference in Geneva, who asked not to be named, remained lighthearted, saying: "We've spoken to more reporters than BA staff.
"Does it come as a great surprise that it snows in the northern hemisphere?"
Steve Greenwood, from Yorkshire, who is travelling to Seoul with his wife, shouted at a group of passengers he and others believed were queue-jumping, saying they "just push in where they want".
He also expressed anger towards BA, saying: "BA stands for bloody awful."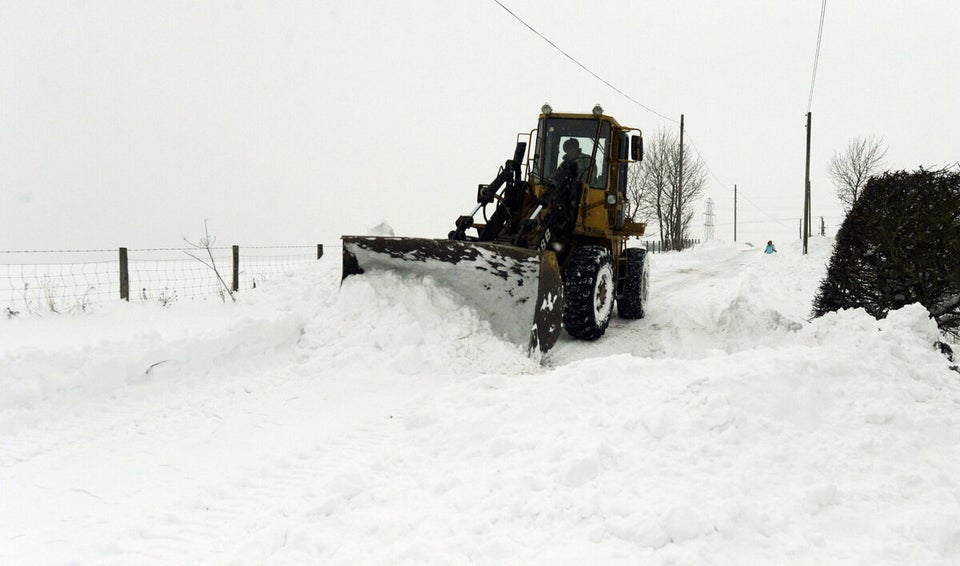 Snow Covers UK