Arsenal suffered another early collapse for a second successive week as Chelsea, like Manchester City, raced into a 2-0 lead and barely breaking sweat.
Theo Walcott's neatly clipped finish gave the Gunners hope but a Kanu-inspired comeback never came to fruition. Martin Atkinson's Chelsea link, Bacary Sagna and a player not even at Stamford Bridge are five of the game's talking points.
ATKINSON NEEDS A BREAK FROM CHELSEA
It will not have escaped Arsène Wenger's attention that Chelsea's first goal came despite an obvious foul by Ramires on Francis Coquelin. That Arsenal had to stay switched on is a prerequisite despite a suspected wrongdoing, but Juan Mata's opener should not have been made possible. It was though, and that the official who made it so was Martin Atkinson is no surprise.
Atkinson oversaw two successive Chelsea wins against Manchester United in 2009-10 and 2010-11, both marred by incompetence bordering on the non-impartial. In the November 2009 game, Atkinson denied United a penalty in the first-half and in the second 45 deemed Darren Fletcher to have fouled Ashley Cole when he had won the ball. From the resultant free-kick, John Terry scored as an offside Didier Drogba tried to make contact (ergo, he is "active") whilst fouling Wes Brown.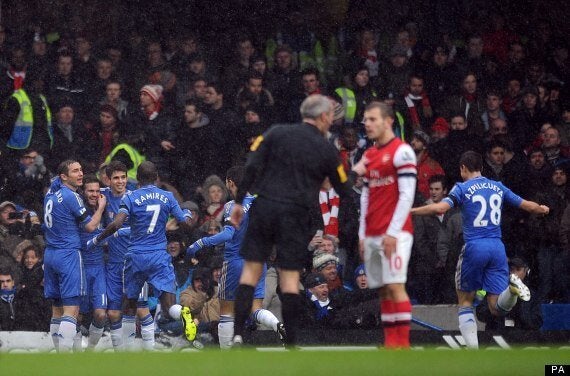 Jack Wilshere protests Chelsea's first goal
The following season, several Chelsea fouls were ignored, serial offender Branislav Ivanović escaped a booking while David Luíz was not sent off or censured for either one of two fouls against Javier Hernández and Wayne Rooney, having already been booked. Last year, Chelsea were helped over the line - literally - by Atkinson, who awarded the Blues a 'ghost goal' in their FA Cup semi-final with Tottenham. Even the penalty Ramires won after a 'foul' by Wojciech Szczesny on Sunday was debatable.
Mark Clattenburg went nearly five years without officiating an Everton match after he took Steven Gerrard's advice to send off Tony Hibbert in the October 2007 derby. A similar break from Chelsea games for Atkinson is perhaps best for all concerned.
SAGNA NOT UP FOR THE FIGHT
On New Year's Day Bacary Sagna gave such an egregious performance at Southampton he mimicked a competition winner. His performances the rest of this month have been similarly dreadful, with the crescendo coming in a high-profile London derby. Whereas competition winners usually show gumption, Sagna was gormless.
His positioning, passing and awareness were not befitting a France international and Premier League mainstay of six seasons. Towards the end of his miserable first 45, he received a kick from Oscar but belatedly executed a self-pitying tumble. Ominously, Sagna has been open about his unhappiness at Arsenal selling Robin van Persie and Alexandre Song. Carl Jenkinson, meanwhile, has displayed some improvement from the reckless novice Arsenal bought in 2011, and having signed a new contract with the rest of the club's Brit pack is identified as a crucial component in the club's bid to end their eight-year trophy drought. More importantly, he would almost certainly show more effort than Sagna if he is recalled.
CHELSEA CAN'T TOLERATE TORRES
When Rafael Benítez was asked in his pre-match interview with Sky why he was starting Fernando Torres he replied, unable to suppress a smile: "Because he's a good player."
The Chelsea fans who despise the former Liverpool manager may have regarded this as Benítez confirming his presence at the club as just one big wind-up. Demba Ba has scored three goals in four games after 13 for Newcastle whereas Torres is experiencing another drought (six games) and, to coin a football cliché, his body language is all wrong. As has been the case for most of this season, Chelsea relied on their attacking trio of Mata, Oscar and Eden Hazard - as well as Ramires - for potency. With the exception of one glint, Fernando was forlorn again and not as sharp as his new haircut.
DIABY CONFIRMS NEED FOR DIAMÉ
Abou Diaby's fitness concerns make Arsenal's only reliable source of steel in midfield Jack Wilshere, who Arsène Wenger would much prefer dictate a game rather than fly into tackles and risk another spell out. Although Diaby is currently fit, he is struggling without someone of his ilk to complement him and is resembling a passenger.
Arsenal are mulling over West Ham midfielder Mohamed Diamé's £3.5m buy-out fee and, given his outstanding performances in the first half of the season, would be daft not to bolster their squad. They would also be easing the strain on Diaby's brittle bones in light of the Chelsea defeat.
RETRO RAMIRES A RARE BREED
Michael Carrick, doyen of possession play and who you won't see go storming into a challenge, said of marauding midfielders on Sunday morning: "It's a different breed of footballer you're up against in my position. There aren't any Vieiras around." Ramires proves there are. Admittedly more attacking than Vieira, Ramires is that rare breed of box-to-box midfielder which was a staple of the Premier League in the 90s but is all too scarce in the modern game. A worthy man of the match, he is a reminder that the possession players need teammates to make bursts forward to get the goals.