Amber Atherton is the founder of online jewellery business MyFlashTrash. As well as modelling, readers may also recognise Amber from her stint on reality television programme Made In Chelsea.
Here she talks us through how she started her site, and how her appearance on the reality TV show opened her business to a whole new market.
Was MyFlashTrash your first business?
No, I'd dabbled in other online businesses before it - one was based on selling CDs and books, on another I designed a range of cuddly toys and board games, and I also had an e-card business.
I started MyFlashTrash when I was 16, so initially it was quite a slow start as I was still at school and studying for my GCSEs. It was a bit of a situational opportunity as I was living in Hong Kong at the time and bringing back products and jewellery. The jewellery sold well and I was able to get a great mark up on it, so I concentrated on that.
How did you publicise your business?
I set up a blog and soon after a designer approached me and asked if I'd consider selling their work. That led to more designers from the UK getting in touch. Now we've got designers from all over the world. I'd say 70% of them are based in the UK still, another 20% are from the US, and the remaining 10% coming from Spain, France and elsewhere.
How did you fund the business?
When the business started I used the money I'd made from modelling to set it up and buy stock - but being a website-driven business there were no real start-up costs. I was working out of my parents' spare room and used to wrap up jewellery in newspaper and a ribbon in the early days!
Everything was then progressed through profits - all of our website and packaging upgrades was paid for using the money from the site, as well as from my modelling and TV work.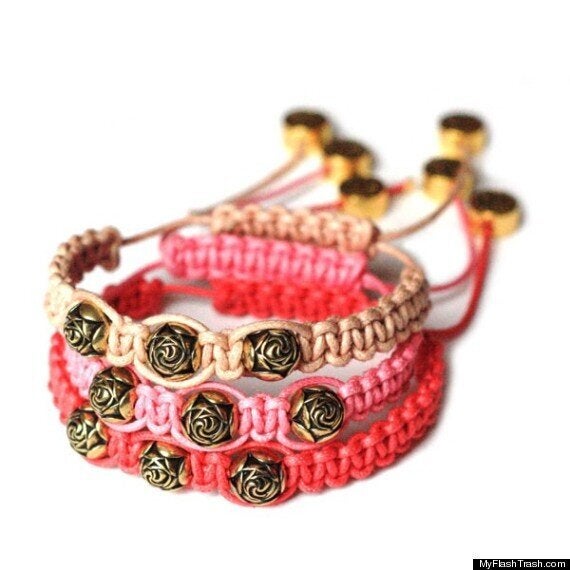 A Street Princess pastels bracelet from MyFlashTrash.com
Did Made in Chelsea have a major impact on your business? Were there any surprises?
We had something of a small, cult following before I went on the show, but we weren't a big commercial outfit. Now, thanks to the show, doors have opened to the entire nation. It was a fantastic free advertising platform which has led to huge growth.
That growth is something we've had to adapt to - that and a new audience. We saw from the traffic coming in after Made in Chelsea that we were getting lots of teenage girls. We introduced cheaper lines because of them - before we were looking at pieces going for a minimum of £50 each, but we introduced lines for around £10 a piece.
We had to take on more staff too - before Made in Chelsea I had one girl helping me out and now we've got seven staff plus me. After the TV programme we started to grow aggressively - that was when the private investors started to become interested.
Were there any other challenges?
Being able to fulfil demand was challenging initially. We needed to look again at our IT systems as the server crashed a few times in the early days.
Dealing with customer service as we moved from being a boutique to a commercial enterprise was challenging too - we needed to make sure people felt they could trust us. There were also logistics issues - if we've got a customer who chooses items from four different countries we don't want to end up charging them for postage from each destination.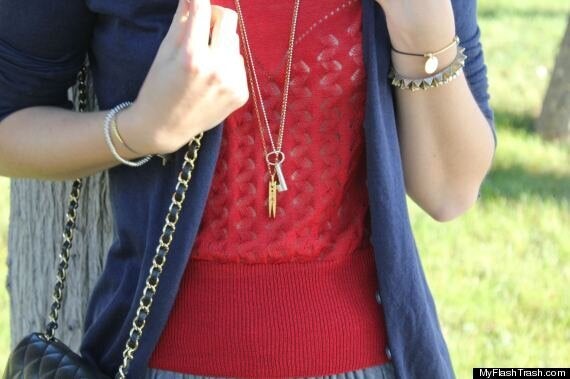 A gold necklace from Amber's collection. Pic Credit: Katie Mulally for MyFlashTrash.com
Delivering what you promise is really important for both our customers and our partners. At times, we took on more than we could manage which resulted in us letting down some designers and customers. It's still a test today, now we're dealing with much bigger retailers and customers.
I've learned not to rush into things - most entrepreneurs are a bit ADD (attention deficit disorder) I think, and want to grow immediately. Some of our ideas weren't, shall we say, executed in the best possible way. So I've learned to think through the implementation of things before doing them.
What do you consider to be your key successes?
The Duchess of Cambridge wearing our jewellery. She bought seven pieces - some earrings and a bracelet - ranging from £25 to £400. She was photographed wearing them during her tour of Asia.
We've also launched our first concession at the W hotel in London in July last year. We're there indefinitely and are hoping to expand to their other hotels in 2013.
Have you ever had a moment where you considered doing something else?
I've never really had a 'throw the towel in' moment, but I've wanted to hide under a pillow for a bit a few times. Luckily, I've got a great team around me, which is really important. So many entrepreneurs think they can do everything themselves.
You've recently raised money from investors after securing a valuation of $5 million (£3.1m) from angel investors in a second round of funding - how did that come about?
Back in 2011 we were growing rapidly, driven mainly by exposure in the fashion press. After that we started getting interest from venture capitalists so I started to think that maybe we should look into angel investing. A couple of guys came forward and after three months we closed the first round out.
What does the future hold for you and the brand?
For now, I'm going to focus on MyFlashTrash and building it up. We're planning on introducing new verticals and aggressively pursuing being at the top of jewellery website business.
I am interested in helping out other entrepreneurs though - I've been approached by a few young start ups for advice and have spoken at schools. I'd love to do anything to do with education and perhaps even invest my own money in them at a later date.