Hundreds of school students around the country were rejoicing in a much-anticipated 'snow day' on Monday, with drifts of the white stuff blanketing the country, shutting schools and allowing pupils a warm lie in whilst relishing a sledging session later on.
Students at Langley Park School For Girls in Beckenham, Kent, were no different in hoping for their school to shut on Sunday evening, but these resourceful pupils knew that to beat the system, they'd need to club together.
However there was a small Twitter turf war over who was responsible for starting the trend, with a pupil from the neighbouring Langley Park Schools for Boys, asking us: "Excuse me, I'm a boy. Where is our mention?"
And so we faithfully promised to give the lads a shout out too.
Anyway, whoever it was began the #closelangley210113, with one student even creating a meme from a picture of their headteacher, Dr Hudson, imagining what she might say if they asked her to close the school.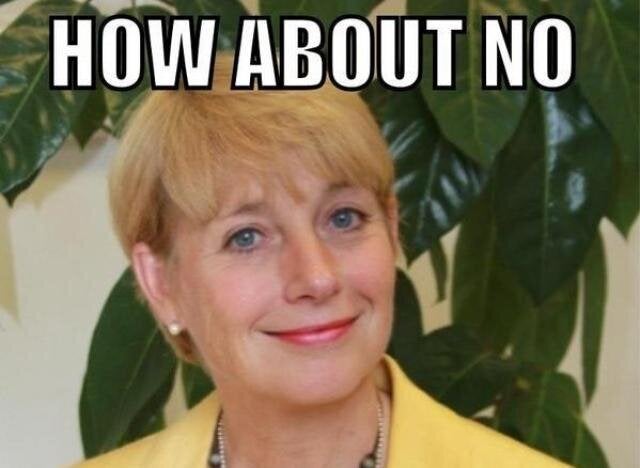 Dr Hudson from Langley Park: what would your headteacher say?
Another tweeted: "when I see this tomorrow morning #lifemissionaccomplished"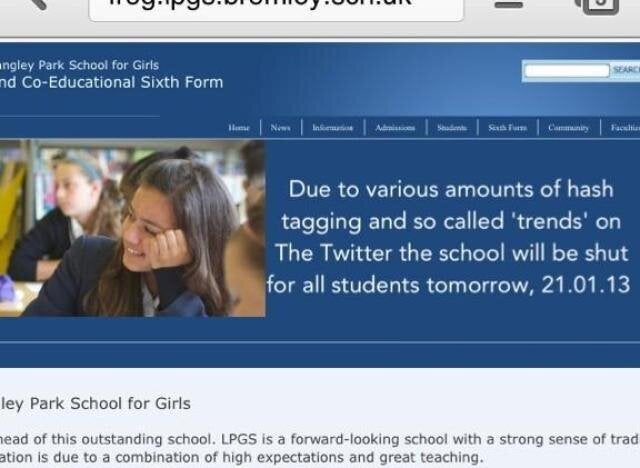 Although over 100 schools are closed in Kent because of the weather, the pupils were sadly correct, anticipating their steadfast teachers would do anything to keep Langley open.

Anyone who had similarly committed teaching staff will remember the sinking of hearts when it's announced you do have to go to school (despite the fabled snow telephone tree dusted off the night before for emergencies)
All pupils from year 10 upwards were told to come into school, with the younger ones allowed to stay at home but access web based learning materials for a "virtual learning day."
Dr Hudson, headteacher at Langley school told the Huffington Post UK: "I think we and Langley School for Boys may be the only Bromley schools who managed to stay open – at least for the students in exam years (Years 10 -12).
"The students may moan but they know we are doing it because we care about them and their achievement, and I know they will thank us in the end.
"Premises staff were out clearing the snow at 4.30 a.m. and they deserve special thanks. I've been really heartened by the efforts teachers and associate staff have made to come in, against all sorts of odds. I am really proud of their dedication."
The school has promised to assess the situation later on Monday, but for all those who struggled into work or school and feels their pain (or even if you're feeling smug in your bed) take a look through their tweets below.
Oh and if you think Dr Hudson should send everyone home because of the snow, leave your comments below.
Popular in the Community