Steve Locke, together with co-founders Leigh Miller and Rhys Oldfield, is the entrepreneur behind cocktail bar chain Be At One.
Here, he tells us the trials and tribulations with running bars in London, how he was taught to make cocktails by the Playboy bar's impresario, and why he's now looking to expand out of the capital.
How did you get started in the cocktail industry?
I've always worked in the bar business. I left school at 18 and started working in bars. I was attracted to cocktail bar tending specifically , y'know, because of the film with Tom Cruise (laughs).
No, I knew when I left school that I wanted to go travelling and when you've only had an education until 18 you're pretty much trained for nothing; I was aware that I needed a skill. I'd been working in a bar which I loved, and met some guys who told me about Baz's school of bartending.
That was the first of its kind; Baz used to be the head bartender at the Playboy club in the 1970s. He set up his bar school in the 1980s and it was three hours a day Monday to Friday for six weeks, and you'd learn how to make the classic cocktails; martinis, manhattans and so on.
But you'd specifically be trained to go into hotels and to know the differences between how, say, Americans drink a cocktail compared to how Arabs would drink the cocktail – It's almost like a language of cocktails.
That really appealed to me because if I was going to be a bartender I wanted to be the best in London. That was in 1991, then I travelled for a bit with that knowledge, and ended up working in a TGI Fridays in London from 1992. Fridays was the first company to take bar training seriously. It's something different now but back in the early 90s it was head and shoulders above everything else.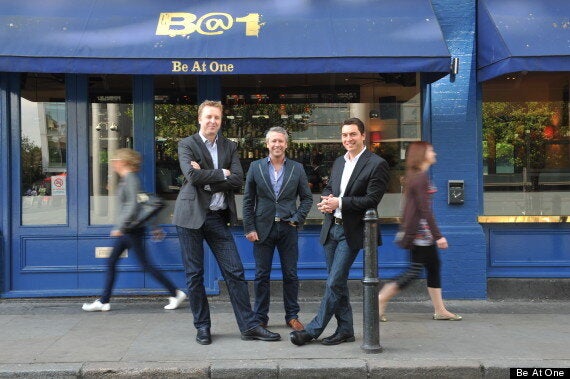 Left to right, Rhys Oldfield, Leigh Miller and Steve Locke
Leigh and Rhys (Be At One's co-founders) were attracted to it too. Fridays was very good at bringing bartenders together for competitions so we met each other at those and then in 1994 we all moved to London at the same time. We went through a lot of tough shifts and we formed our bond over that time. We were all very serious about our bar tending even then.
It's like when people meet at university and are solidly friends for 19 years, except I worked with them all that time too. At no point have we ever split off and done other things. And that's great, we were friends who worked together and then we set up a business.
Was that difficult? A lot of people recommend you don't set up a business with your friends…
A lot of people who are friends first and then set up a business find out they can't work together. But with us, we had both sides of the equation from the beginning.
What spurred the decision to move on and set up on your own?
We'd been at Fridays for five years on and off, and we'd travelled with the company. By the time we left we were in our mid to late 20s and Fridays was changing. When we started it was very bar focused with a restaurant attached, and it had become a more family-orientated restaurant-focused business.
The training wasn't as important as it had been when we started because the company was expanding, and as a result was diluting. And we just thought there was an opportunity for this to be better.
How did you begin? Did you look at locations? Investment?
We left Fridays in the summer of 1997 and we opened the first bar in the spring of 1998, but we didn't leave because we were going to open our own bar – we just left because Fridays had come to an end for us.
We found backers really easily and had a couple of sleeping partners – one was a guy we knew who wanted his own bar, so he found some capital to put in and we put some money in ourselves and that formed the basis for the first bar.
Our initial outlay for the first bar as £60,000. For our money, me, Leigh and Rhys ended up having to get car loans. We asked for a business loan initially and were told no, so we phoned back the next day and said I want to buy a car.
In December last year we raised £4 million of finance and there's not a car mentioned anywhere in it, so that's quite a big step when you think about it (laughs).
The first location was in Battersea Rise – it would be wrong to assume that anything like market research or a business plan took place – none of that happened. It was just three bar tenders who thought we want our own bar and we need a room.
And that's all we've done for years. One of the bar staff in Guildhall asked me the other day 'what was it like back in 1998 in Battersea', and I told him it was honestly the same as what it's like today. Hand on heart. What we're offering is exactly the same.
There's not many where you can go in, get a smile from the bartender, a handshake, a bit of recognition, good quality drinks, served quickly – that's our niche if you like.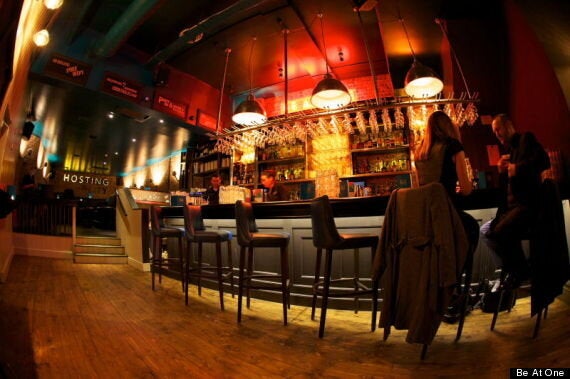 Be At One's Guildhall bar
How long before you expanded?
A year. And it almost killed us. With the first one we stumbled across a fantastic site on Northcote Rd. But that was pure luck – we did the right thing once we got in, but the location was pure luck. We spent £60,000 and it made £50,000 profit in the first year. Today, it makes £400,000 a year profit and is still one of our best sites.
So buoyed by that, full of naivety, we got a second bar. Three times' the size, five times' the rent, we put a restaurant in, we stayed open all day and basically did something completely different. This bar was in Wandsworth town and was quickly a complete failure. We lost money from day one. That was painful. We lost £182,000 in the two years it took us to sell it. We sold it on the 18 September 2001, which is up there with the birth of my children as one of the happiest days of my life.
I wouldn't go back and change it because the lessons it taught us were fantastic, and from that day to this we haven't shut a bar since.
So that lesson was pretty important, right?
Learning from your mistakes is so important – I think a lot of entrepreneurs hit a wall and think 'right, that's it', and throw in the towel. People throw in the towel before someone actually comes in to take the keys away.
There's been many times in the past few years where we've thought we're sailing so close to the wind here that if everyone called in their debts, we'd be bust. But if you can wait until someone actually takes the key away from you, well for us that day has never come.
Some people would think 'we can't technically continue because I haven't got enough money to pay the rent and there's not enough in the business so we're insolvent'. Other people will have thought – this is really hard work, I'm working 100 hours a week and not seeing any money. I used to earn £100,000 a year – I'm packing it in.
We never had that attitude because we don't have any other profession to fall back on. That option wasn't there. That kind of helped us really, we had nothing to lose when we started, and that's quite empowering.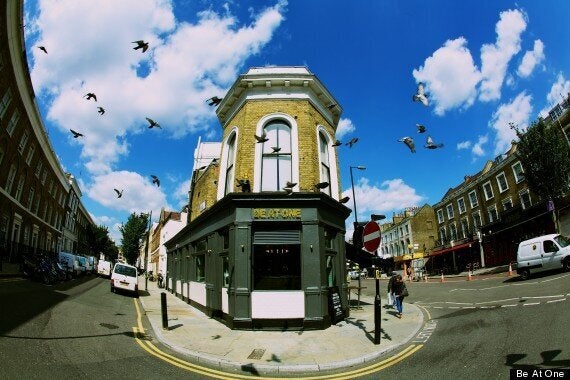 The Kings Cross Be At One
Were there any other hurdles?
We make mistakes all the time. We've invested money in something recently and it's not going to work, so now we're going to pull out – you can look at it as a loss, or you can look at it as an investment in the learning process.
The frustration comes when you forsee a problem and you still fall into it. Because then you're spending the money twice on the lesson you should have already learned.
Going back to Wandsworth, we were working 80 hours a week some weeks, and physically you're drained. You're working late nights then having to get up and run the business - and I remember on a Friday afternoon we had a weekly meeting and we'd come close to selling the bar, and the buyer pulled out at 4:30pm.
And I remember sitting on the steps absolutely shattered, knowing I was going to have to go into Friday night, Saturday night, Sunday night, and thinking how much more can I take. But guess what? You get through it. You need that resilience. When you have a bad day you have to remember that you've been down before and still got through.
Working with your friends must really help? Often entrepreneurs tell me the worst thing they face is the loneliness when things don't go well...
Yeah definitely, having three of us helps. If all three of your are low it's hard to pick yourself up but usually one of you isn't and you work to pick the others up. I'd never had been able to do it on my own.
What's been the biggest success? What are you most proud of?
When Battersea first opened up towards the end of a Saturday night, and we'd finished serving, but the bar was jumping with people singing to all the songs… I remember seeing Jim Kerr at Live Aid getting 80,000 people to sing Don't You Forget About Me and it was a bit like that. I'm not saying we had 80,000 people in the bar, but there was that point where 120 people are all singing at the top of their voice, and you've created that party. And the three of us would look at each other and just grin. And London's favourite cocktail is... the mojito
One thing I always tell the staff is at the end of the night, stand on the door and listen to the people as they are leaving because you'll get a glimpse of what your business is like. Most people will thank you as they head out the door. I still enjoy doing that now.
It's important that I can walk in and see if a bartender's not doing his job properly. We give them nine weeks training and invest £5,000 but they know there is nowhere they can hide, if they mis-pour one spirit someone will see and be able to tell.
But what you don't get is everyone looking scared when I walk in – the team like it when we go in because they want to show us what they can do.
What does the future hold?
We've exchanged on a site in Smithfield Market, and in February 2013 we open in Fenchurch Street, and we've just created a new site in Reading that will open in March. That's our first one outside London so that'll be a real test for us.
We like student towns but we don't focus on them. There's so many value offerings out there and when you're a student you drink differently to your BeAtOne regular. It's about the quality of the drink at the right price. There's a lot of people in Reading but they're not being well catered for.
We've got a big check list of other locations but we'll need to make sure Reading works first – there'll be lessons that we don't know yet and we want to make sure we've got it right.
This business model has much further to go. There could be another 30 sites in London, another 100 across the UK. We get emails weekly asking when we're opening overseas.
Last question: What's the most popular cocktail?
The mojito. It's a great drink, and it's very easy to drink if it's made well, some cocktails can get a bit same-y after a while. It's quite good value as well. And people travel more now and are used to ordering them.