Wesley Sneijder should complete his transfer to Galatasaray today after the Turkish club announced he was due in Istanbul this afternoon for a medical.
The Internazionale attacker was due to arrive at Ataturk Airport at lunchtime, the club announced in a short statement on the official website.
Liverpool were believed to be interested in the 28-year-old, who has been in talks with Galatasaray after Inter accepted a €10million bid two weeks ago.
The Super Lig club yesterday released a statement which read: "The transfer of Wesley Sneijder from Inter Milan has been agreed.
"The conditions of the deal will be made public and the player will sign the contract after health checks."
Sneijder is believed to have agreed a three-and-a-half-year contract with the Champions League knockout side.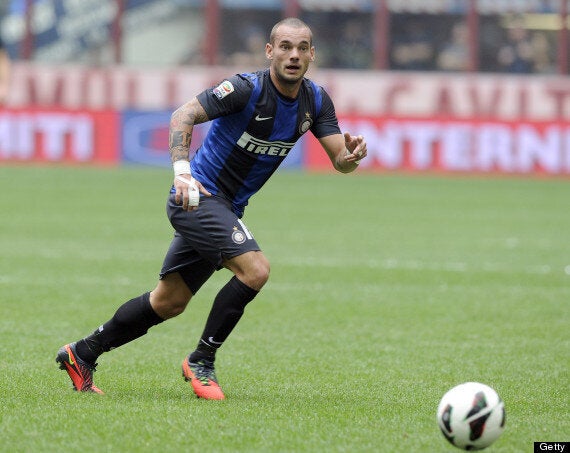 Sneijder has not played for Inter since September
Sneijder has not featured for the Nerazzurri since a 2-0 victory at Chievo on 26 September after publicly refusing to take a €2m pay cut on a contract that ran until June 2015.
Head coach Andrea Stramaccioni maintained the trequartista's omission from the first team was solely a tactical decision, despite Inter's injury crisis.
Moratti last week urged Sneijder to make a "professional" decision over his future after three-and-a-half-years in Milan. Sneijder watching Inter earlier this month
Moratti told inter.it: "I met Sneijder. I wanted to have a chat with him, I thought we needed to.
"Have we made peace? I don't think there was ever a war in the first place, and certainly not with me personally.
"Did we chat to see if we were all moving in the same direction? Which one? It's a surprise...
"Is he close to a move to Galatasaray? Yes, I think so."
Sneijder indicated he was ready to leave the 2010 Champions League winners.
"I spoke a lot with president Moratti because we have a good relationship, we had a good talk, nothing more than that," he told inter.it.
Sneijder had the opportunity to join Manchester United in 2011 when Sir Alex Ferguson identified as the replacement for Paul Scholes, but his wage demands proved to be the stumbling block.
Popular in the Community