For the new creepy thriller 'The Following' which debuts on Sky Atlantic this evening, British actor James Purefoy admits he has based his character on a handful of real life serial killers both dead (like Ted Bundy) and alive.
"But I'm not going to name them," he explains, "because serial killers are, generally speaking, the most narcissistic, egocentric maniacs you could ever possibly not want to meet, and I don't want them thinking, 'hey, that's me on the screen.'"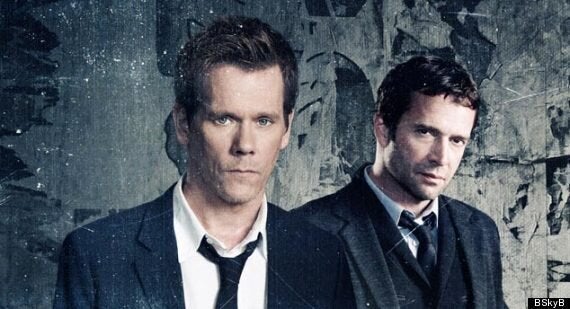 Kevin Bacon is the good guy, James Purefoy the unconscionably bad guy in Sky Atlantic's 'The Following'
Once he'd won the role in the show, which also sees Kevin Bacon's television series debut, Purefoy – known to UK viewers for diverse roles from BBC's 'Mansfield Park' to the epic serial 'Rome', most recently 'Episodes', was assiduous in his research.
"I sat in a room in Santa Monica, 16 hours a day for a week, and just looked up every interview, every documentary, on every serial killer and cult leader. Not just your average one, because this character Joe Carroll is more monstrous. He has a cult following.
"You come out blinking into the Los Angeles sunshine after that week, somewhat dispirited with the human condition. And Joe is the most nihilistic character you could come across in his celebration of death."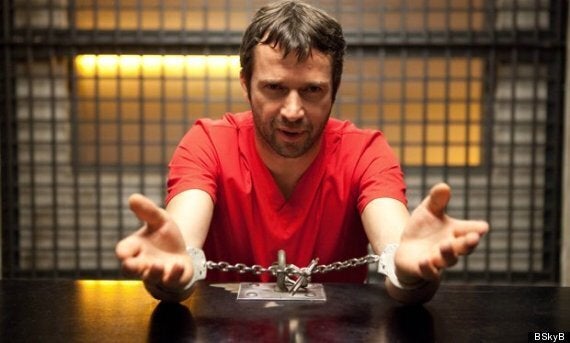 Purefoy as Joe Carroll... don't let the chains fool you
Purefoy is compelling, if not cheerful, in his assessment that "serial killers may be anywhere", but he's happy enough with this...
"I'm not a fan of ambient TV. I'm a fan of TV that grabs you by the f***ing throat."
The success of the show will depend on Purefoy being able to match Bacon, the good guy, the only FBI agent able to understand Carroll after capturing him the first time, move for move. How did Purefoy psyche himself up for that?
"Doing scenes with Kevin is like playing tennis with someone better than you. It raises your game. There's nothing egocentric about it, so it's very pure acting. But my character Joe knows everything, so he helped me."
Following encouragement by his 16-year-old son in the UK, Purefoy had decided it was time to try his luck in the US on an intense serial. "They really court you in America, if they want you to do something."
In this move to US primetime, he is undoubtedly following in the footsteps of his fellow Brit and good friend Damian Lewis.
"We have a jolly good laugh about the whole thing. I met him the night after he won an Emmy for 'Homeland' for a whisky in a New York bar, and he was dumbfounded, stunned. I thought it was hilarious."
The Following debuts tonight on Sky Atlantic. Here's some blurb, and watch the trailer below...
Terrifying cat-and-mouse thriller 'The Following' stars Golden Globe winner and Emmy® nominee Kevin Bacon ('Mystic River', 'Apollo 13') and the UK's James Purefoy ('Rome'). When notorious serial killer Joe Carroll (Purefoy) escapes from death row and embarks on a new killing spree, the FBI calls former agent Ryan Hardy (Bacon), a psychologically scarred veteran who captured Carroll nine years earlier, after Carroll murdered 14 female students on a college campus where he taught literature. Knowing Carroll better than anyone and close with Carroll's ex-wife, Claire (Natalie Zea, 'Justified'), Hardy works closely with an FBI team which includes sharp upstart Mike Weston (Shawn Ashmore, 'X-Men: The Last Stand'), and he soon discovers that Carroll was not only communicating with a network of killers in the outside world, but has much more planned than just a prison escape.