Pat Nevin has defended Eden Hazard after he was sent off for kicking a ball away from under ball boy Charlie Morgan, who he branded "disgraceful".
Morgan, 17, boasted before the match he was "needed for time-wasting" in Swansea City's Capital One Cup semi-final with Chelsea, and lay on top of the ball, preventing Hazard from giving it back to Swansea goalkeeper Gerhard Tremmel.
Hazard then dislodged the ball from under Morgan, who appeared to feign agony, which resulted in a red card for the Belgian.
Morgan nurses his 'injury'
And former Blues player Nevin empathised with 22-year-old Hazard, describing Morgan as a "bit of a joke, he's acting there he's rolling about"
"The ball boy's behaviour is disgraceful. He ain't injured," Nevin told BBC Breakfast.
"Eden Hazard goes to try and get the ball off him and he refuses to give it. He rolls on it and holds it for a long time, the behaviour is unacceptable. [Hazard] kicked at the ball because the ball boy wouldn't get out of the way."
Nevin was genuinely astonished to discover Morgan was 17, an age regarded as too old to be a ball boy by the majority of football purists.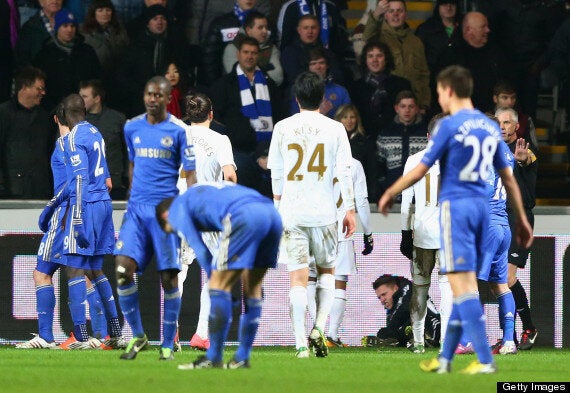 Players surround Morgan in the aftermath of the incident
"Get it in some sort of perspective. He hasn't hurt the ball boy, he [Morgan] has behaved disgracefully."
"You'd have to get rid of the ball boys. If you're going to have people rolling about like that, sadly you're going to have to take that out of the game."