Lucinda Bruce-Gardyne is the founder of gluten-free food brand Genius. Inspired by her children's intolerance to gluten and dairy, and her love of combining cooking with her physiology degree, Bruce-Gardyne launched her range in 2008 and has continued to go from strength to strength.
Here, she tells us about the two-year long process to create a suitable loaf of bread, and why gluten-free has become one of the food sector's biggest success stories.
What were you doing before Genius?
I studied physiology at university but decided I wanted to try and get my cooking bug out of my system before I pursued a career in science - I wasn't quite ready to be a lab technician.
I took a course at Leith's School of Food and Wine and after that I worked for a while in Terence Conran's Michelin-starred restaurant Bibendum, before setting up my own catering business. I ran that for three years.
Then I returned to Leith's working as a teacher at the cookery school. I wrote a book called the Leith Techniques Bible, which looks at understanding what ingredients actually do in a recipe.
By that time I had three children, one of whom was gluten intolerant, another was dairy intolerant. I struggled at home with the first two kids in terms of feeding them, and thought if anyone was going to get around the problems of cooking for them it should be me.
I wrote a book on how to cook for people with food allergies in 2007, which looked at how to subsidise dairy, nuts, wheat or whatever the allergy is, into recipes we all love. All people with intolerances and allergies deserve to blend in and enjoy the food they like to eat.
I know people who are gluten intolerant and decent bread everyone can enjoy eating is one of the hardest things to find...
It was really important for me to have a bread recipe. I spent more than a year working on bread alone for the range. It's difficult because you have to replace 50% of the ingredients that go into it; the challenge was finding what to use instead that would still toast well, taste nice and not fall apart.
After I wrote my first book I actually worked on a bread recipe for another two years, I just knew it had further to go.
How did you launch into supermarkets?
After about 18 months of working on the bread recipe, a gluten-free bakery called UCB got in touch and agreed to scale my recipe up. That took another 18 months as there were so many sensitive variables involved in the process.
While I was developing this I showed an early version to one of the dads at my kids' school. He was gluten intolerant, and said he'd help out financially and help us to take it to the market properly. I didn't have much business experience at the time so we joined forces and created Genius together.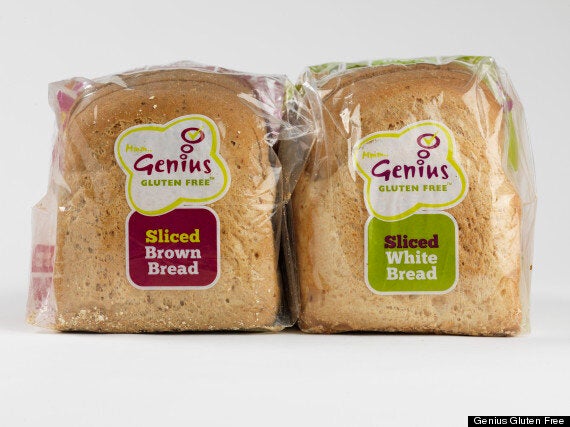 What did the dad do for a living?
He's an entrepreneur too - his name's Sir Bill Gammell and he founded Cairn Energy in Edinburgh. We needed in excess of £1 million to get the backing of the supermarkets and prove we had the capacity to be able to produce vast quantities for them.
It worked, as we launched in Tesco in 2008. Tesco was really good; they completely bought into the whole vision about how gluten-free food should be good to eat.
Didn't gluten-free food have a bit of a reputation for being tasteless at the time?
Oh yes, it used to be dry and crumbly, and had an odd chemical smell. You couldn't eat it fresh, it needed to be toasted or microwaved, which made it inconvenient for people who wanted to take sandwiches out with them.
It also used to be incredibly expensive - I remember seeing it selling for £6 a loaf. We knew then that there would be huge demand for it, but even we were taken by surprise by the queues of people who used to form at the supermarkets for the day when our bread was delivered.
It was lovely to hear stories from customers saying they'd enjoyed their first chip butty or their first fried egg sandwich for years. Within a year it was in all the major supermarkets.
Did you ever have less successful days? Where you considered throwing the towel in?
Every day for the first four years. Honestly. I'd be up all the way through the night trying to work out the seemingly insurmountable problem of getting the loaf just right.
There was lots of trial and error and it took a huge amount of self determination - not least when I had to do it all over again when we were scaling up.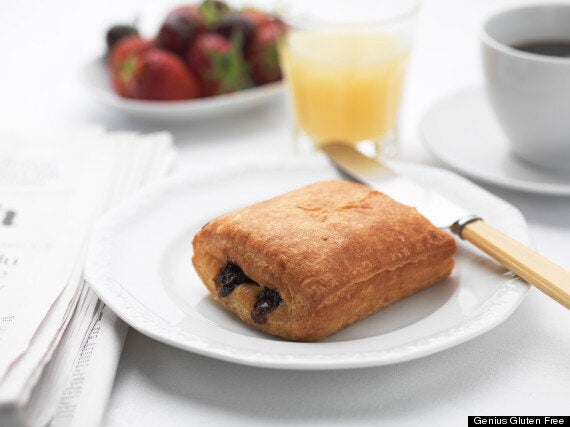 Genius now makes more bakery items, including pain au chocolats
Did you make any mistakes along the way?
We tried to do too much initially. We were a small team with enormous demand and we wanted to be about more than just bread - we wanted to produce all bakery products that will make people's lives easier and better.
It was important to put firm criteria in place on why we'd develop another product. We became aware that if we stretched ourselves too thin we'd end up doing everything badly.
Now we've got a lot more hands on deck, but there are still just three of us in product development.
How do you decide what to tackle next then? What's worth investing your time in?
A big part of that process is in our relationship with our customers. We were the first to market with our bread and that counts for a lot as people have kept loyalty with us. They also appreciate the honesty with our brand - the fact I developed it because of my son.
What's been your proudest moment?
I'm really lucky that I get to work in a business which tangibly makes a difference to people's lives. People are emotional about bread because it helps them to fit in - we've had stories where we've helped kids because their lunch box looks the same as everyone else's now.
What does the future hold for you?
I wouldn't want to focus on anything else just now - we're only three and a half years old and we've only just got started.
If we could be in a position where we've become a global brand leader, that'd be a great achievement. Awareness of gluten free is growing with consumers - and not just for those who've been diagnosed with celiac disease.
Increasingly, people with osteoporosis, thyroid problems or migraines are becoming aware that gluten may be having an effect on them and their conditions. There's been a sea change with GPs too - they're not passing off people as being faddy eaters any more.
Popular in the Community