Stoke City's Glenn Whelan will not face a retrospective ban for his horrific two-footed challenge on Manchester City's Javi García.
Whelan lunged in to a two-footed stamp on Garcia in the clubs' FA Cup tie however the FA has said the laws of the game rule it can only take action retrospectively for incidents not seen by match officials. Referee Howard Webb didn't even give a free-kick.
Astonishingly, the Stoke midfielder has defended his challenge. Whelan said he didn't try to be "dirty"
He told reporters: "I've gone in for the challenge and I don't think I tried to be dirty but if it looks that way on TV then I'll have to hold my hands up. I don't think I caught him as much as he was rolling about.
"It's the English game, the old-fashioned game, and that's what the Premier League is so good for.
"There is massive pressure on the referees from the media and the people they're accountable to. Hopefully it [tackling] can stay in the game and people just get on with it."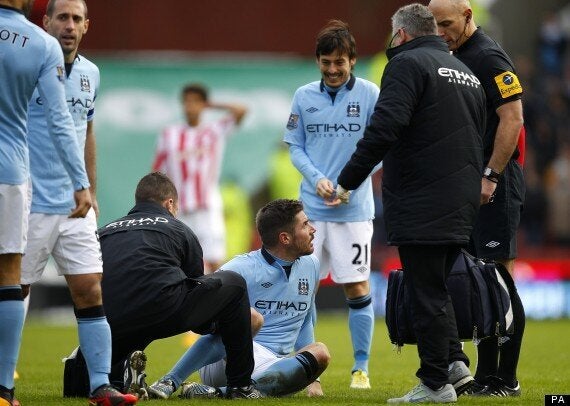 Garcia was furious with the challenge
City midfielder Gareth Barry had hinted he expected Whelan would receive a three-match ban and refused to condemn Webb's failure to act.
"I think the referee said at the time - I spoke to him and he said he didn't have the right angle on it but Javi, in the changing room, said the player went in with both feet and caught his ankle so I think they showed that on TV too," the England midfielder said.
"But I don't want to speak badly against Glenn Whelan. He's a great pro and I'm sure he went for the ball."