Arsenal manager Arsène Wenger has admitted in defeat in the club's bid to sign Barcelona striker David Villa.
Villa, 31, has found himself on the fringes of the Barça first-team since his return from a broken leg last year.
The Spain international has also become frustrated with his role on the left wing rather than as a striker, as the Blaugrana accommodate Lionel Messi's prowess as a forward.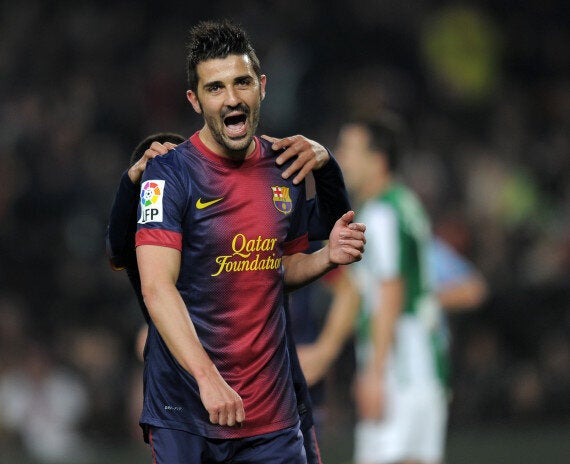 Villa has been demoted to a squad player at Barça
Despite effectively admitting the Gunners' interest in the European Championship and World Cup winner, Wenger had disappointing news for supporters.
"Barcelona do not want to sell David Villa. They've made that very clear," he said at his press conference ahead of Wednesday night's Premier League match with Liverpool.
Asked whether there would be room to manoeuvre on Villa, the Frenchman replied with an emphatic "No."
Wenger said last week he was aiming to bring in two players to strengthen his squad as Arsenal seek to qualify for the Champions League for a 16th successive season.
However Wenger boasts an expert poker face and the likelihood is fans, fearful of the possibility Tottenham could usurp them in the league for the first time since 1995, could be left disappointed.
Much to Gooners' chagrin, he added he had "enough strikers" at his disposal. Giroud scored the winner at Brighton on Saturday
"What's important is to buy players who can strengthen the squad. Otherwise, you do nothing," Wenger added.
"We have enough quality strikers."
Olivier Giroud is arguably the Gunners' sole out-and-out striker, with Theo Walcott still liable to play on the right wing and Lukas Podolski deployed wide.