Competition for jobs in London has reached a one-year high according to the latest research from job search site Adzuna.
For the second year in a row, Hull is the hardest city to find a job in, with 52 people chasing each vacancy.
Sunderland, the Wirral, Wolverhampton and Bradford make up the rest of the top five most difficult places to find work.
It's also bad news if you live in the capital - competition for jobs in London is intensifying, as there are now 2.4 jobseekers per vacancy, a six-month high.
Jobseekers in Cambridge, Guildford and Aberdeen are having considerably more luck however; in these three cities there are actually more vacancies than candidates.
Adzuna also put together this heat map, which shows that, Aberdeen aside, there is an extreme north-south divide when it comes to job-seeking hotspots.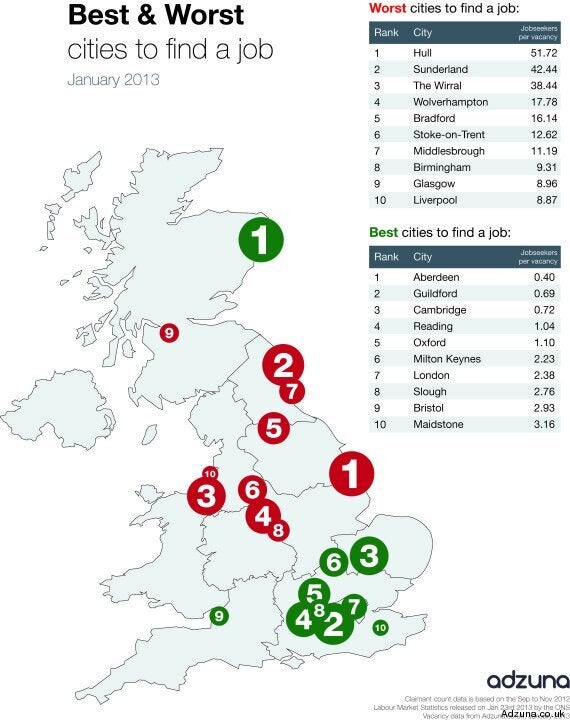 The hotspots (and cold spots map) for job vacancies in the UK
The top 50 cities in the UK were ranked by comparing the job vacancies in Adzuna's search index of 500,000 live jobs to the number of claimants in each city from the latest ONS data released in January 2013. Adzuna also analysed the distribution of job titles and categories to determine which jobs are in hottest demand in each city.
The group's research also saw that average salaries are still falling - Wales (-9%), the West Midlands (-7%) and Eastern England (-6%) have seen the sharpest drops in recent months, and advertised salaries in Liverpool dropped 8% to £26,240 a year in the last six months.
On a brighter note, wages in towns such as Nottingham, Preston and Stoke-on-Trent have increased by up to £5,000 a year since August 2012.
If you're after a job in IT and engineering, you're in luck - this sector advertised more than 1.6 million jobs in 2012. The greatest growth in job vacancies is it the finance, sales and graduate sectors, boasting nearly 80,000 monthly job opportunities between them.
Bad news for bar men though, as the number of vacancies for waiting and bar staff dropped by 20% this month after the Christmas peak.