'Dallas's return brought the usual catalogue of threats, revelations and poolside romances, but this second series of the reboot has a giant Stetson-shaped shadow hanging over it.
It was business as usual for both generations of Ewings… the saintly Christopher (Jesse Metcalfe) desperately wooing racing driver Ricky Rudd - I kid you not - to drive on his beloved methane. Can't help agreeing with John Ross (Josh Henderson) that this seems an unlikely way for Dallas businessmen to make money. Meanwhile, Bobby was reeling from the news that his wife Anne had a secret daughter. Of course she did. You could tell furrowed Patrick Duffy was raging within at this treachery. He even moved his hand out of her grip for a whole scene.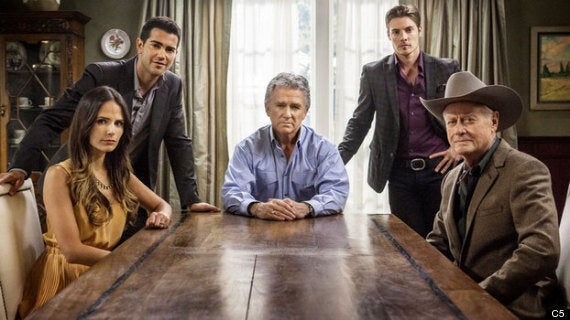 The return of 'Dallas' saw the usual catalogue of bust-ups, betrayals and battles for power
But that was nothing compared with the bombshell presented by Christopher's estranged wife. Turns out she'd been keeping her real identity under wraps, too, throughout their short-lived marriage. The name Barnes mean anything to anyone?
All the while, the clock ticks on JR Ewing, with Larry Hagman wandering through a handful of scenes to steal, body failing but spirit intact. The load is increasingly falling on his young scion played by Josh Henderson. He acquits himself well, singularly rubbery, slick and well-oiled in a cast full of wood but, on his own, that's a big hat to fill. With JR only appearing in four more episodes, I guess it's time to enjoy one of TV's biggest characters while we can.
Related