A teenage showjumper has died after being injured at an equestrian event when she fell from her horse.
Ella Pallister, 17, died in hospital yesterday as a result of injuries sustained while competing at Kingston Maurward, near Dorchester, Dorset.
Ambulance crews were called at about midday on Sunday and she was taken to hospital in Dorchester before being transferred to Southampton.
A statement from British Showjumping and Kingston Maurward extended their condolences to the teenager's family.
It said: "It is with the deepest regret that British Showjumping confirm that Ella Pallister, aged 17, from Dorset died yesterday as a result of an injury sustained whilst competing at a British Showjumping affiliated show at Kingston Maurward in Dorset on January 27.
"Ella fell from her horse in the warm-up arena and was transferred to Dorchester County Hospital prior to being taken by air ambulance to Southampton General Hospital.
"Both British Showjumping and Kingston Maurward extend their condolences to the family during this difficult time."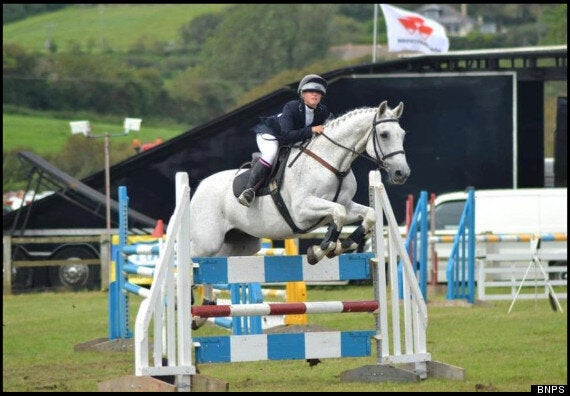 Ella Pallister seen riding her horse Cocoon II
Her parents Ted and Karen Pallister paid tribute to their daughter and her love of horse riding.
"Ella was our shining star," they said in a statement to the Dorset Echo.
"All she has ever wanted was to ride her ponies and win her competitions in the fastest time possible!
"There is so much more to say but at the moment our loss is too great to put into words."
Dorset Police confirmed the force was not investigating the teenager's death.
Ella was a Year 13 A-level student at Thomas Hardye School in Dorchester.
Katie Taylor, head of Year 13, paid tribute to the "popular and bubbly" teenager.
She said: "We are all devastated to hear of the unexpected and tragic death of Ella.
"She was a very popular, bubbly, hard-working and down-to-earth student.
"She will be very missed by her closest friends but also by the whole sixth form and school community, staff and students alike.
"Our thoughts are with Ella's family."