There are concerns for the health of an orphaned baby elephant who is feared to be dying of a broken heart.
Borneo pygmy calf Joe is losing weight fast and experts say it will be a "challenging task" to keep him alive as he is only consuming half the milk he should be, AFP reports.
Three-month-old Joe is being cared for by keepers at Malaysia's Gunung Rara Forest Reserve after 14 rare Borneo pygmy elephants were found dead of suspected poisoning.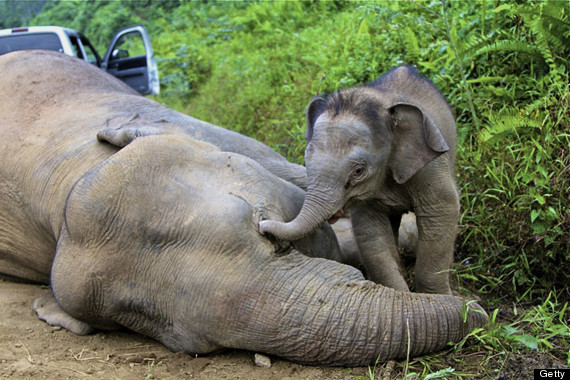 Heartbreaking: Baby elephant Joe nuzzles his dead mother
Heartbreaking photographs of the calf nuzzling his dead mother were released as keepers try desperately to persuade little Joe to eat.
He is said to have been left traumatised by the loss of his mother and the subsequent 500 mile road trip to a quarantine facility, where he has lost 10kg since his arrival.
Sabah Wildlife Department senior vet Dr Sen Nathan, told The Malay Mail: "From the post-mortem, it looks like the elephants died of poisoning but we are waiting for the laboratory results to confirm the cause of death.
"There are a number of oil palm plantations in the area where the pygmy elephants were found dead and these elephants do cause a lot of damage and one of the plantations might have wanted to get rid of them."
State environment minister Masidi Manjun has pledged to imprison anyone found to have maliciously killed the "majestic" animals.
"It is a combination of anger and sadness," he said. "I am still grieving. I fail to understand human behaviour."
The WWF conservation group estimates fewer than 1,600 Borneo pygmy elephants remain in the wild.
Pygmy elephants are found only on the northeast tip of the island of Borneo, and inhabit forests near water sources and grasslands. Borneo pygmy elephants are smaller than other Asian elephants, chubbier, and have bigger ears and tails.