The finale of this second series of 'Borgen' interwove the personal and the political to extremely satisfying effect, as Birgitte, Kasper and Katrine were all forced to assess the demands of their glamorous but time-consuming careers.
For the PM, her daughter's problems meant a private hospital stay, just as she was fighting for a massive new public health kickstart. Plus she had another unexpected office incident to cope with. I'm not talking about her spin doctor Kasper's broken foot (playing astro-turf football of all things - I thought he slept upside down in his office suit), but something far more disturbing... he spent the first 30 minutes grinning. Actually expressing facial pleasure.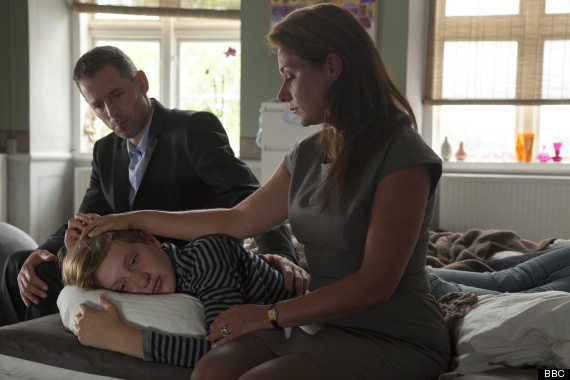 Laura's illness brought changes in both her parents' lives
To be sure, it looked more painful than the foot, like new muscles were groaning at this strange work-out, and it obviously caught even Katrine on the hop, because she asked him, "Where do you want to eat?" In THAT postage stamp pad? Is there a choice? No wonder they were off house-hunting. Which meant a row about their future - TWICE - in front of a boggle-eyed estate agent, who made up for in scene-milking what she lacked in screen time. Her expression was fabulous.
Nearly as good as Kasper's self-conscious appearance in Katrine's office, complete with flowers and bashfulness. Which was nearly as good as the look on his face when the PM's daughter later spontaneously gave him a hug of gratitude. And when he silently forgave his helpless mother for enabling the years of abuse he'd suffered as a child, and just as silently told Katrine he was ready to have a child. I'm convinced Kasper is one of the great characters of Nordic television.
This week's English words: walk-in closet, all right
The grin did disappear for a while, however, when the press got hold of Laura's clinic and triggered another panic attack. That, and the clinic giving Laura the boot because of all the furore, led Birgitte to the crossroads of this series' big theme - that of whether she could fulfil her professional ambitions as well as her personal duties, and whether a woman can actually do it all?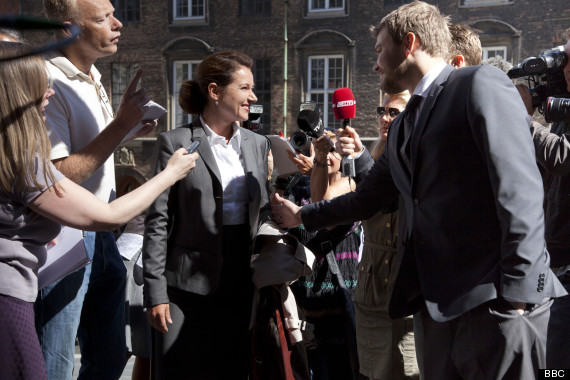 Birgitte Nyborg was forced into an extraordinary decision as a result of her daughter's illness
This led to, arguably, the key scene of the whole series - Birgitte's admission to Laura's psychiatrist of her guilt, that sometimes her job was easier to handle than her family. The smoking shrink gave her redemption, "Laura did not get ill because you were made Prime Minister." As for her guilt, "join the club."
If this all sounds like a bag too full of feminist twonk, the script defiantly veered away from framing Birgitte's dilemma in these terms, despite her opponents' blatantly misogynistic attempts to ask whether a caring mum could make a leader the country deserved. It was left to that sage retainer Bent to remind Birgitte she could not abandon her politics. "What kind of role model would that be?" asked the psychiatrist. "I'm damned if I'll debate my gender," she told Kasper.
Instead, in a stirring drum-roll of self-determination to which any self-respecting feminist much surely aspire, she decided it was up to the country to decide which leader they wanted, and burst into parliament to make the extraordinary remark that triggered an election.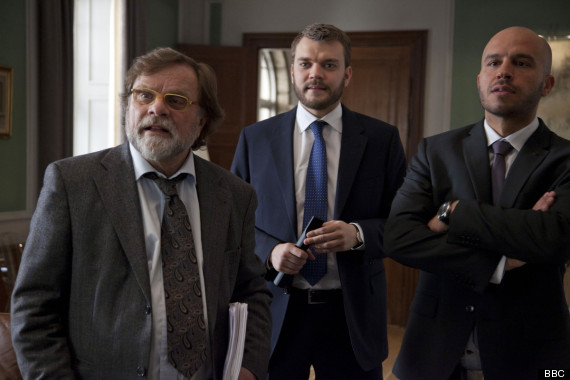 Which one of these three is not used to smiling?
With Australia's PM Julia Gillard (a female leader who has tackled head-on the misogyny underlying her own political battles) calling an election, the events of 'Borgen' could not have been more timely. Hmmm... we should note that, since making her own extraordinary remark earlier this week, Gillard has seen a massive dip in the polls, the resignation of two senior ministers and the arrest of a former MP on charges of misusing union funds on prostitutes.
Suddenly, Birgitte's own ride to fresh power looks positively seamless. But with her political rival Hesselboe promising his sainted tax cuts to a weary populace, her own party enjoying her temporary absence a bit too much, plus the distraction of a newly single ex-husband holding her hand for a tantalising extra second, the Danish PM will have to work hard to keep that grin on Kasper's furrowed face. Series 3 can't come quickly enough.