Updated: comments from Nick Clegg and Simon Danczuk
Former energy secretary Chris Huhne is facing a possible prison sentence after pleading guilty to perverting the course of justice.
Speaking outside the court, the man who had been widely tipped to succeed Nick Clegg as Lib Dem leader, resigned as MP for Eastleigh.
He said: "The only proper course of action is to resign my seat at parliament."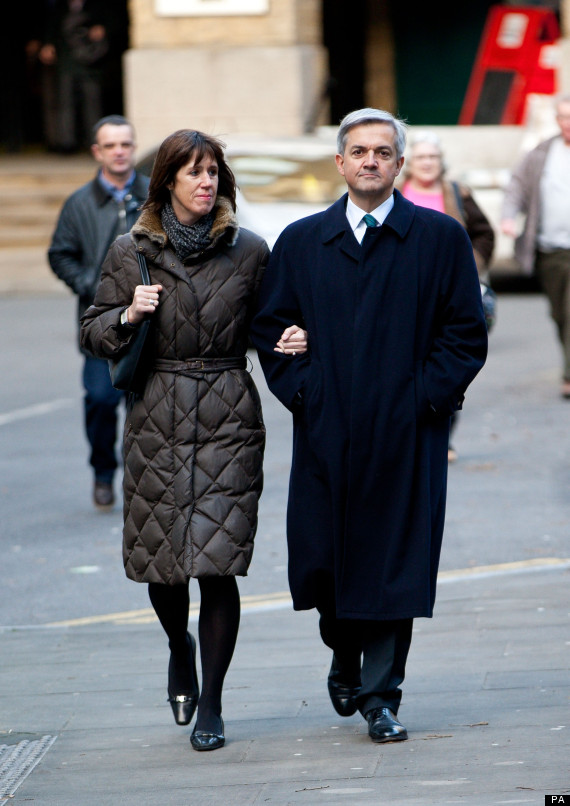 Former Cabinet Minister Chris Huhne arrives at Southwark Crown Court with Carina Trimingham
He was told by the judge he should be "under no illusions about the prospect of his sentence".
Huhne had previously denied claims that his ex-wife took speeding points for him and was due to stand trial alongside former wife Vicky Pryce.
But he dramatically changed his plea before the start of the trial at London's Southwark Crown Court today.
Pryce denied a charge of perverting the course of justice.
Carina Trimingham, whom Huhne admitted having an affair with in 2010, ending his 26-year marriage to Pryce, was in the public gallery as he pleaded guilty.
Perverting the course of justice is a serious crime and carries a maximum sentence of life imprisonment although the average sentence is around 10 months.
Huhne's exit raises the prospect of a major coalition clash in the by-election for his Eastleigh seat.
The Lib Dem MP had a majority of 3,800 at the 2010 general election, but it is viewed as a key target seat for the Conservatives if they are to get an overall majority in 2015.
There is also the prospect of UK Independence Party (Ukip) leader Nigel Farage making another run for Parliament. He previously stood unsuccessfully in the seat.
Party sources said Ukip would be fielding a candidate in Eastleigh and Mr Farage would consider the situation, adding that the constituency was "very close to his heart".
Prime Minister David Cameron's official spokesman declined to comment on the former minister's resignation, saying only: "It is a matter for Mr Huhne."
Lib Dem leader Nick Clegg said he was "shocked and saddened" at the development.
Giving his reaction, Mr Clegg said: "This is obviously an extremely serious matter and it's essential that the legal process is now allowed to run its course.
"I am shocked and saddened by what has happened, but I believe that Chris Huhne has taken the right decision in resigning as an MP."
Labour MP Simon Danczuk, whose complaint sparked the investigation by Essex Police, said: "It looks like Chris Huhne tried to engineer a cover-up that he couldn't sustain, and that is presumably why he's pleaded guilty today.
"None of us are above the law, including ministers, but I do have some sympathy for Chris Huhne in that I wouldn't have wished his political career to be ruined in this way."
It had been alleged that the former energy secretary, who stood down from the Cabinet after he was charged last year, persuaded economist Pryce, 60, to take the points so he could avoid prosecution.
The allegations emerged in 2011 after Huhne's 26-year-old marriage to Pryce had ended when he admitted an affair with PR adviser Ms Trimingham.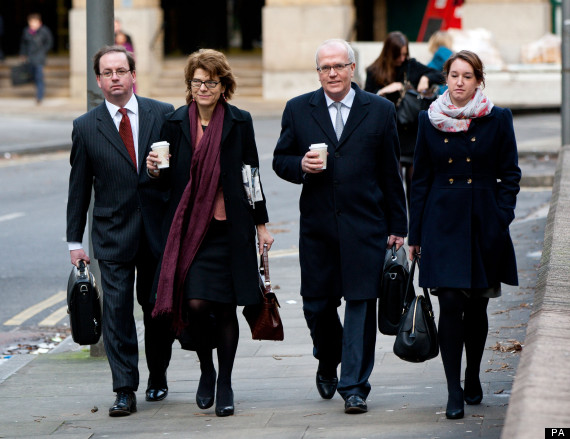 Vicky Pryce arrives at Southwark Crown Court
Huhne resigned his ministerial job but remained the Lib Dem MP for Eastleigh.
He had vowed to fight the charges and last week pleaded not guilty, but changed his plea today, admitting to doing an act tending or intending to pervert the course of justice between March 12 2003 and May 21 2003 relating to the speeding offence.
Liberal Democrat leader of Eastleigh Borough Council Keith House said of the MP's resignation: "It is very, very sad to learn of Chris's resignation.
"He has been a hard-working MP for Eastleigh for the last eight years and has built up a reputation for hard work, both locally and nationally.
"The Liberal Democrats have a solid base in Eastleigh. They have won every election here for eight years and we will go forward.
"I will be involved in the selection of a new candidate but I am not looking to be the candidate."
In court on Monday very few people in the packed public gallery knew what was about to happen.
After days of lengthy hearings and months of waiting for a trial to start, packed Court 3 at Southwark Crown Court was eagerly waiting for the prosecution to open its case.
But as Chris Huhne's barrister John Kelsey-Fry QC asked for him to enter his plea again, a collective gasp reverberated around the courtroom.
Hours of work and months of waiting came to an end in one explosive word uttered just a week after Huhne proudly denied the offence in open court.
"Guilty."