After the FA Cup enjoyed some respite from its terminal illness the Premier League returned with some thrilling games as Newcastle's latest French phenomenon endeared himself, Aston Villa exhibited promise in their relegation scrap and Manchester United's lead widened to nine points.
Here are some of the weekend's talking points...
BENÍTEZ MUST GO
When Roberto di Matteo was sacked in November Chelsea were four points off the Premier League summit. Under Rafael Benítez they are now 16 points adrift. By that logic the Spaniard could have been sacked three times over.
It is a stat that highlights Benítez's failings at league level in English football. With Liverpool, he finished fifth, third, third, fourth, second and seventh and now he is growing dependent on Tottenham and Arsenal, capitulation experts, to ensure Chelsea qualify for the Champions League next season.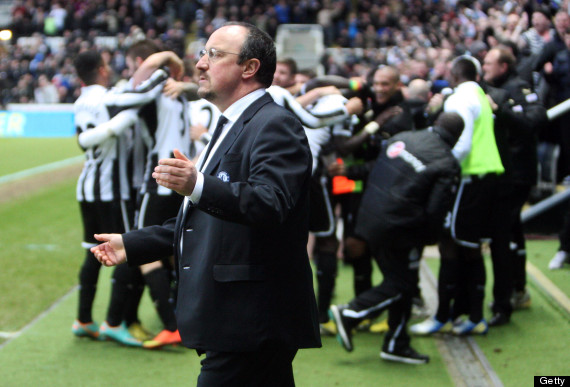 Another defeat, and that's a fact
There are no easy excuses. Those Chelsea players who played for the club when they enjoyed a mini-rivalry with Benítez's Liverpool can't even be accused of not playing to their potential. Frank Lampard has scored eight goals since beleaguered Benítez arrived at the Bridge, but that did not stop the Chelsea manager from clutching at the straw that was Fabricio Coloccini should have been red-carded.
An erroneous appointment, Chelsea have won just three from their last 10 games and Benítez had Eden Hazard to thank for papering over their pathetic surrender at Swansea in the League Cup semi-final. An FA Cup or Europa League win cannot mask an appointment which could prove to be career suicide for a once gifted manager.
EVERTON WERE NEVER TRUE CONTENDERS FOR FOURTH
Uncharacteristically Everton enjoyed a good start to the season, fuelling hopes of an assault on fourth place. The caveat is that their form has since regressed to such a degree they can't even beat Aston Villa at home.
The truth is the Toffees were never genuine contenders, like Arsenal in the post-2005 years whenever they've found themselves at the top of, or near, the table. The draw against Villa confirmed that - it was their 12th stalemate of the season. Fellaini has scored 11 goals this season
Everton have only lost three games in the Premier League - the same figure as leaders Manchester United - however Nikica Jelavić's second season syndrome has lumped the burden firmly onto the shoulders of Marouane Fellaini, who in turn gets balls lumped at him from teammates.
Squad depth has long been an issue at Goodison Park and the failure to bolster ranks in January - something which David Moyes succeeded in last year - has made Europa League the only feasible European football on the agenda for the Blues next season.
SOUTHAMPTON'S RISK ASSESSMENT MAY PAY OFF
Three games and still no win for Mauricio Pochettino as Southampton manager, but there is cause for optimism rather than pessimism for Saints fans. Wigan's last gasp equaliser on Saturday made Pochettino feel "sad" but he added "the players have accepted my style very much".
Southampton's pressing at Old Trafford compelled Sir Alex Ferguson to hail them as the best team at Old Trafford this season and that is the notable difference to their game. Exciting to watch though they were under Nigel Adkins, Southampton were one of the worst defensive sides the top flight has seen but Pochettino's desire for his team to pressure opponents is a simple but savvy counter.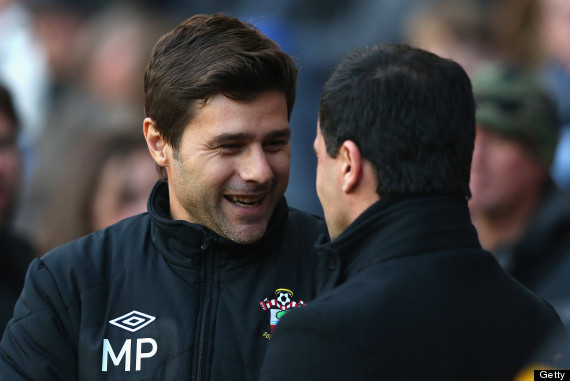 Pochettino is greeted by fellow Spanish-speaker Roberto Martínez
A win would have moved them five points clear of the relegation zone but after Manchester City visit St Mary's this Saturday Southampton face Newcastle, QPR and Norwich - teams in the Premier League's bottom seven. Although we may not like to admit it, there may be method in chairman Nicola Cortese's madness after all.
PATHETIC PULIS
"I haven't got a clue what offside is now," Tony Pulis moaned after Stoke's 1-0 loss at Arsenal. Well, everyone else has.
Lukas Podolski's deflected goal was legitimate and it was only by virtue of a linesman's bizarre and outdated decision to raise his flag that the match-winning goal became an incident. "But he ran over there and talked to him!"
Pulis then berated Arsenal's players for surrounding referee Chris Foy and his assistant, as if they should not contest a ridiculous decision. As manager of a team infamous for their brutality and a week after one of his players came close to breaking an opponent's leg it's time for Pulis to get his own house in order first.