A Japanese pop star has shaved her head in contrition for spending the night with her boyfriend and issued a sobbing video begging forgiveness for the faux pas that broke her management's strict "no dating" rule.
One of the original members of the girl band AKB48, Minami Minegishi was caught out after a tabloid newspaper published photographs of her leaving her boyfriend's apartment.
According to Japan Daily Press, the pictures show Minegishi disguised in a face mask and hat, departing Alan Shirahama's home.
Keep scrolling for more pictures of Minegishi and AKB48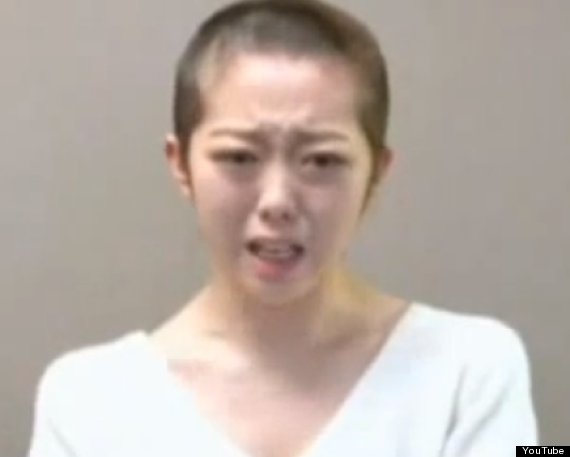 'I am so sorry': Minami Minegishi weeps as she addresses the camera
Hours after the snaps were published, Minegishi posted a video of herself on YouTube, revealing her shorn head and begging forgiveness for her "thoughtless and immature" behaviour.
The BBC points out head-shaving is a "traditional form of showing contrition in Japan" and translates the 20-year-old's apology as such:
"I was supposed to set an example for younger members, but my actions were extremely careless and senseless… My mind has gone completely blank. I don't know what I can do or what I should do, but I couldn't bear to do nothing… Everything I did is entirely my fault. I am so sorry…"
Minegishi was previously regarded as one of the most influential members of that band, which now numbers some 90 members who perform in "teams".
The Associated Press reports she has now been demoted to "research student" status.
A number of the singer's fans have leapt to her defence on Twitter, yet some appear to be sticking the boot firmly in...
SEE ALSO: Japanese 'Double Tooth' Yaeba Trend Will Give You A Costly Crooked Smile (PICTURES)