A branding exercise that was designed to attract potential business people to Florida has become the focus of a sexism storm.
The new logo for the state's economic arm, Enterprise Florida, reads "Florida: The Perfect Climate For Business".
However the cartoon replaces the "i" in Florida with an orange tie, which critics suggest alienates female business entrepreneurs.
Responding to cries of sexism, the state has denied that there is any reason to view the graphic as contentious.
"The tie is iconic to mean business," Enterprise Florida's chief marketing officer Melissa Medley told NBC News. "It has nothing to do with gender roles. It's just a cartoon."
"We're going to move forward with this campaign," she added.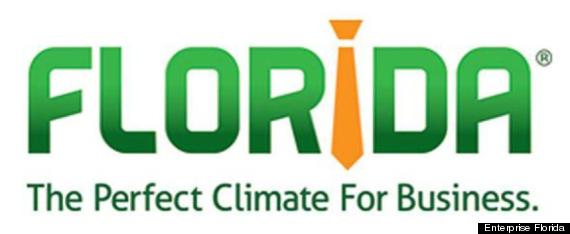 "It's just a cartoon"
According to Florida Women's Business Center, the state ranks fourth in the US for women-owned businesses, having grown 73% compared to the 50% national average between 1997 to 2011. So, there are plenty of women interested in the campaign.
Tampa Bay Times columnist Sue Carlton was quick to explain why the logo would upset some women:
"To some of us who grew up with tales of important downtown clubs where businessmen dined and women were unwelcome, of big deals cut on golf courses without pesky women in attendance, the message is not so subtle: Businessmen Welcome Here.
"The rest of you? Eh."
She added: "We just need a catchy phrase that says sunny Florida is open for business, and we mean open to everyone."
Reactions on Twitter have been mixed with some labelling the logo as outdated and sexist, while others think the logo is inclusive of both sexes.
Watch the video that accompanies Florida's new business drive below. As HuffPost Miami points out, it features mainly men.