The world's longest cat - measuring in at over a whopping four feet in length - has died of cancer at the age of eight.
Stewie, a Maine Coon whose full name is Mymains Stewart Gilligan, died in Reno, Nevada, on Monday. Owner Robin Hendrickson confirmed the sad news to KoloTV, describing him as a "special guy".
According to the Associated Press, Stewie was declared a Guinness World Record holder in August 2010 after he was found to measure 48.5 inches from his nose to the tip of his tail.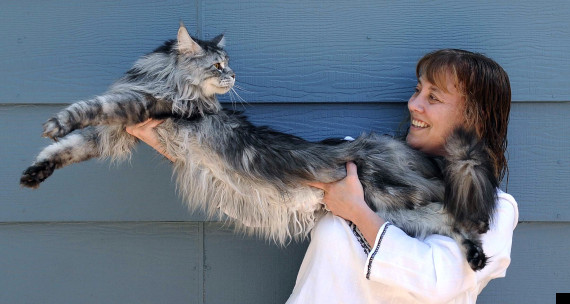 Stewie with his owner Robin Hendrickson
His owner Robin Hendrickson told the Reno-Gazette Journal Stewie had been suffering from Lymphosarcoma, a disease of the lymphoid tissues since 2011.
He was later diagnosed with tumours in his kidneys.
Stewie worked as a therapy cat to help people in medical care and served an an ambassador for animal causes.
Hendrickson announced his death on his Facebook page, stating: "At 7.37pm Stewie flew home to the Rainbow Bridge". (A reference to the mythological place where a pet goes upon its death, eventually to be reunited with its owner.)