Rafe Spall admits his first outing as a film leading man was not entirely smooth sailing – it involved his wife, mother and mother-in-law all watching him fill the big screen with some full frontal nudity.
"I was in the screening last night, with my wife, my mother and my mother in law," he reports now. "It's like some strange anxiety dream. Just imagine that for a moment."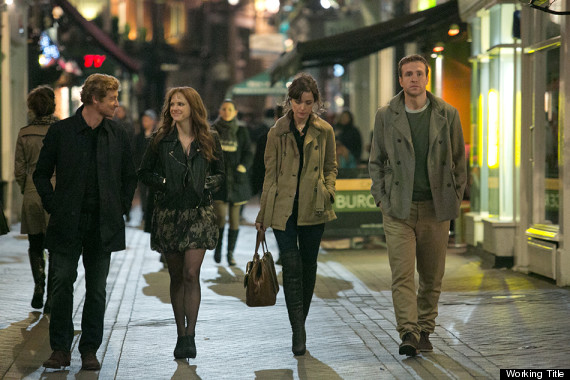 Rafe Spall (right) costars with Simon Baker, Anna Faris and Rose Byrne in 'I Give It A Year'
This sounds like Rafe Spall speaking, but he doesn't quite look like we know him. The tall, elegant man walking into the room is almost unrecognisable as the woebegone Ian who loved and lost Anne Hathaway in 'One Day', even less Noel of 'Shaun of the Dead', a change he reluctantly acknowledges…
"I might look a little different… I lost some weight, but I've been this weight for seven years, bigger and a little bit smaller in that time.
"Cutting your hair has a lot to do with it. It's an amazing thing what getting a short haircut will do for a man.
And the proof of the pudding is in his leading role in this week's 'I Give It A Year', what writer and director Ben Mazer (Bruno, Borat, Ali G) is calling 'the antidote to rom-com'. It asks… what happens after a couple (played by Spall and Rose Byrne) get married, when they realise they've married completely the wrong person?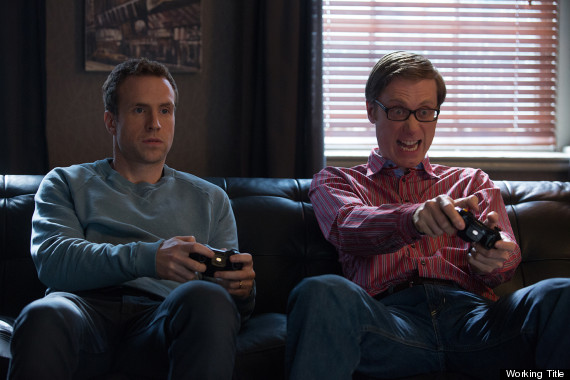 Rafe Spall shares the funnies with Stephen Merchant
"I'm married to the woman of my dreams. I've been with her for years. But my parents had only known each other for six months, and they've been together for 30 years," says Spall. "Should people stay married to the wrong person? Absolutely not."
"It's a positive and negative thing that in this day and age you can opt out, but that does mean people get married on a whim, which is negative." He pauses. "I don't know if this film is sending any clear message, it's just funny, and that's all that matters.
For Spall, this meant teaming up with screen wife Rose Byrne for some pretty beneath-the-buckle exchanges, and relying on scene-stealer Stephen Merchant to share the funnies, something he's only too happy about…
"I love other people who are good at what they do. I want to be in good films, and I want everyone to be as funny as humanly possible," he asserts. "I'd be a real dick if I worried about being out-funnied by anybody else. That would mean I thought it was about me, but it's about making people laugh."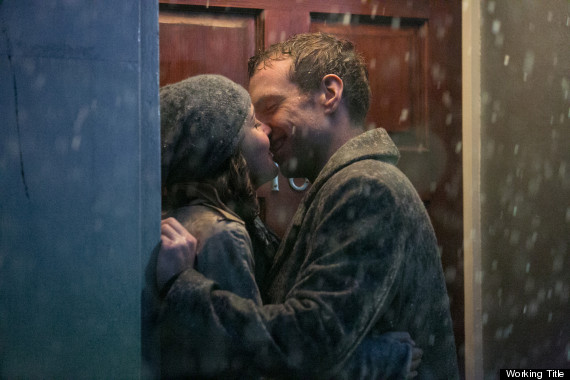 Rafe Spall and Anna Faris share a passionate kiss... shame he's married to someone else in 'I Give It A Year'
This film proves that Spall's bones are indeed funny ones, inherited from his fellow thespy father Tim – "one of the funniest men I've met in my life," Rafe adds. He also describes their close bond – "we speak nearly every day" – but, it turns out, one subject is off limits.
"We never speak about the nuts and bolts of acting, of how to approach a part, or how to say a line. It's a private thing. I would never say to him, 'how would you say that line?' It just doesn't happen."
For the moment, this M.O. seems to be working, as Spall seems set to fill the British awkward, loveable everyman we like to see at the centre of our London-bus rom-coms, basically the space left vacant by Hugh Grant. Spall hesitates to be compared…
"I think he's amazing. What he does is such a skill. To translate whatever you makes you interesting on to the screen is a massive skill. They're big shoes to fill. He's been in loads of films, I've been in one. We'll see where we are on February 9."
Times have a-changed, though. Hugh Grant never had to do any full frontals, did he? Spall grins…
"I'm sure he would have."
'I Give It A Year' is in UK cinemas from Friday 8 February. Watch the trailer below...