There are two types of people in this world: those who are good at buying presents and those who aren't.
For the ladies lucky enough to be dating the first kind, give yourselves a pat on the back and hold on to him. Tightly.
For those who ended up with the latter, HuffPost UK Lifestyle feel for you -- Valentine's Day must be a pretty painful event.
Thankfully, modern technology has delivered a solution to save women from any more of that perfume.
New present-buying website ManBuysPresent.com is designed to make it impossible for men to mess up their lover's gift.
Users are asked a series of questions about the recipient, occasion, budget and deadline, and then presented with a series of gift solutions.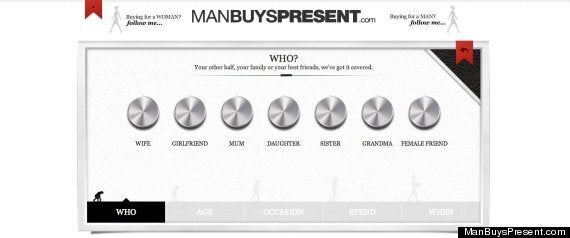 The site offers gift ideas for all the ladies in a man's life
The site has nice touches, such as a "get out of jail" next-day delivery service, and helpful descriptions that explains exactly why each product would be desirable to a woman (see the example below).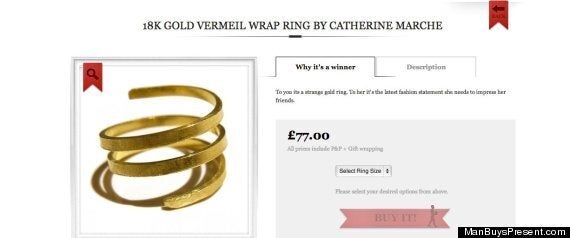 "To you it's a strange gold ring. To her it's the latest fashion statement she needs to impress her friends."
The site's founder Rachael Robertson told HuffPost UK Lifestyle: "I was getting really bored of e-commerce sites that were getting so big that finding anything was like searching for the proverbial needle in a haystack.
"And my (otherwise lovely) husband had chosen me some spectacularly bad presents -- the electric toothbrush on Christmas Day being particularly special."
Robertson says that her gift website is tailored to the way men typically like to approach tasks.
"By creating an online personal assistant, we suggest gifts based on answers to simple questions. Then we only show prices that already include delivery and beautiful gift-wrapping."
"It's a simple, foolproof system."
Due to popular demand -- and the fact that it's not just men who are bad at present buying -- the site now offers present solutions for ladies looking to buy gifts for men.
Phew. That's us sorted then.