Manchester United's powers of recovery are so profound that on the rare occasion a team gives them a dose of their own medicine the experience is scarring. Everton's comeback from 4-2 down to draw 4-4 - football's new death score - handed the initiative to Manchester City in last season's Premier League title race with just three games remaining.
A match which encapsulated United's trophyless efforts; vibrant attacking football, porous defending and tactical errors from the manager, United have displayed the scars from that match this season in their desire to reclaim the Premier League from their blue nemesis. Failure usually motivates Sir Alex Ferguson's side to do great things and since their first league win under him in 1993 they have only failed to reclaim their title once, during the three-season drought between 2003-04 to 2005-06. Nine points clear of City, they have not been this far ahead since 2001 when they ended February a mammoth 16 points ahead of Arsenal.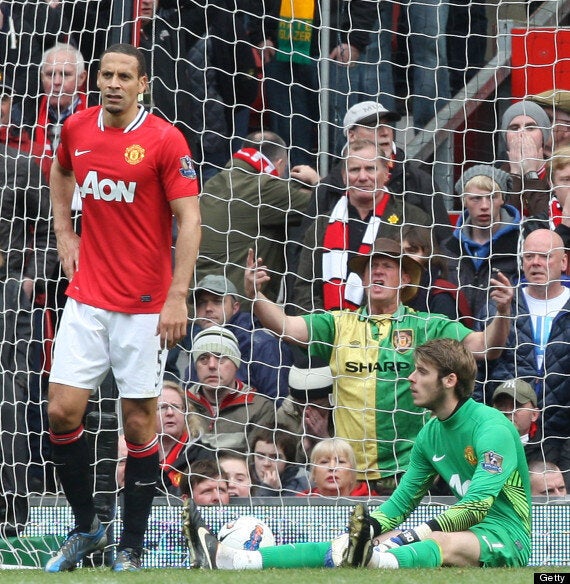 Rio Ferdinand and David de Gea are crestfallen after Steven Pienaar's equaliser last season
But before that demoralising draw in April last year Everton had already recovered spectacularly against United a year earlier. 3-1 down in the 90th minute of a September 2010 league clash at Goodison Park, a Tim Cahill header and a deflected Mikel Arteta equaliser sent the home crowd into a cacophony of euphoria while United players were left stunned and their jaws ajar in disbelief.
Everton have perhaps been the most dominant team United have faced this term. On the opening day of the season at Goodison they capitalised on Ferguson's inexplicable lineup and bullied a lightweight United with Marouane Fellaini again the Reds' bête noire as he nodded in the winner.
Yesteryear, so immaculate was United's record against Everton the result was a fait accompli before a ball had been kicked. However it is curious to note that since Fellaini joined the Toffees United have won just four out of 10 matches against Everton with all but one of the victories ending 1-0.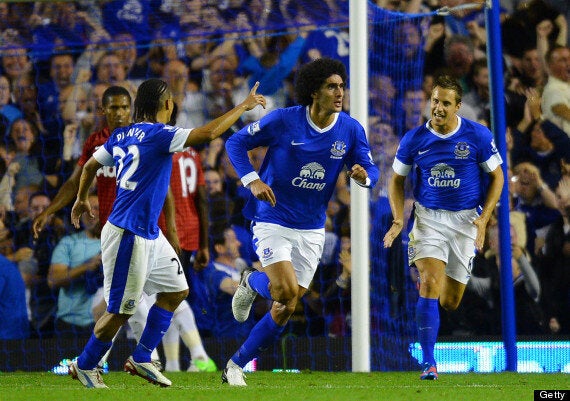 Fellaini has often terrorised United
The Belgian has scored three times against United and Everton have not lost any of those games. He sparked the dramatic response at Old Trafford last year before Steven Pienaar's equaliser and given his physical and aerial prowess has garnered comparisons to Duncan Ferguson. Terrorising United helps, and Ferguson scored seven times against them in his career, compelling his namesake at Old Trafford to call him and former Everton strike partner Kevin Campbell the 'bruise brothers'.
Everton still boast their blue brutality but are a far more sophisticated outfit. The return of Steven Pienaar has upped Leighton Baines' game and it is difficult to dispute Gary Neville's assessment they are the best left-sided combination in the Premier League. Darron Gibson has thrived when fit since his transfer from United last year and Kevin Mirallas is a skilful addition. Nikica Jelavić is suffering from the infamous second season syndrome and is without a goal in two months but, as United fans won't need reminding, scored twice at Old Trafford last season during a run of 11 goals in 16 games.
Baines, the subject of a United enquiry in the summer, is not the only man in the blue half of L4 who Sir Alex Ferguson admires. He has the highest regard for David Moyes' longevity at Goodison Park and a begrudging respect for the number of times his fellow Scot has outfoxed him. And with Pep Guardiola opting for Bayern Munich rather than the Premier League, the likelihood of Moyes swapping blue for red has increased.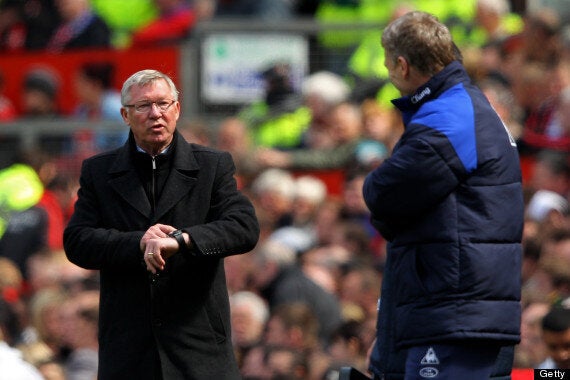 Moyes sees the funny side of Fergie Time in April last year
Ironically United may be happier if the outcome at the weekend is another draw between the sides. Everton have chalked up 12 stalemates in the Premier League and their failure to defeat 19th-placed Aston Villa at home last week ended their remote Champions League aspirations.
Ferguson will privately be pleased his squad will play a day later than Manchester City after the midweek international fixtures, even if the Citizens can close the gap to six points temporarily with victory at Southampton. But with Real Madrid on the agenda in under a week Everton, with their own power-play, provide a stiff warm-up test ahead of the glamour tie.
Related