Four previously undiscovered letters written by Albert Einstein are to go under the hammer, an auction house has revealed.
The Nobel Prize winner wrote the letters, said to be a "unique collection", to socialist philosopher Corliss Lamont, who was accused by Senator Joseph McCarthy of being "un-American" for his suggestions that the US should maintain a relationship with the Soviet Union.
Lamont, who was Chairman of the National Council of American-Soviet Friendship, was cited for contempt of Congress after he refused to answer questions at McCarthy's subcommittee in September 1953.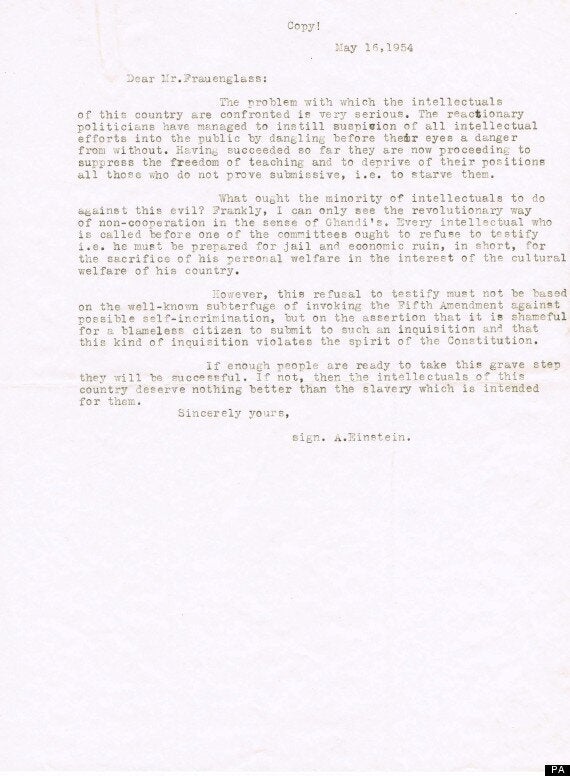 Letter from Einstein to high school teacher William Frauenglass
In the first of the previously-undiscovered letters from Einstein, dated 2 January 1954, the scientist told Lamont he had "rendered the country an important service".
Einstein, who had settled in the US in the 1930s, added: "There is one point in your statement which I regretted.
"It is your declaration that you have never been a member of the Communist party. For party membership is a thing about which no citizen has any obligation to give an accounting for."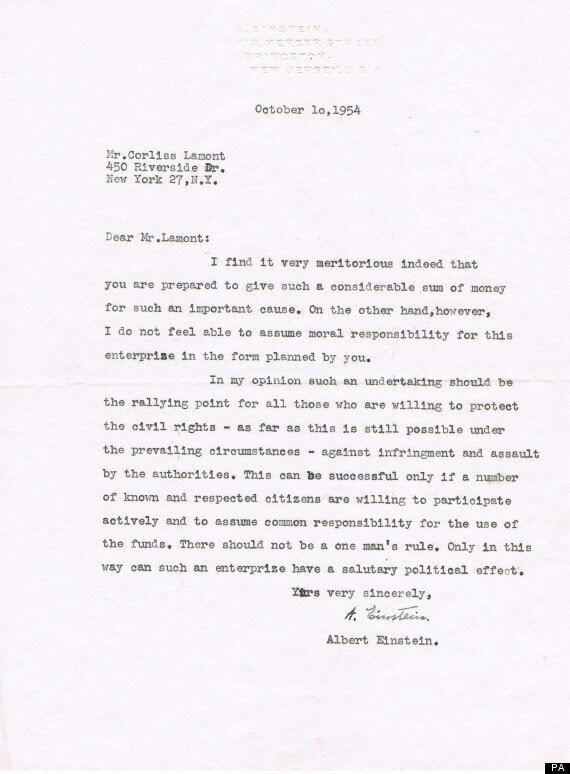 Letter from Einstein to socialist philosopher Corliss Lamont
The typed letter, on embossed headed paper from 112, Mercer Street, Princeton, New Jersey, U.S.A., is signed "A. Einstein" in black ink.
In a reply on January 25, Lamont said he was preparing a pamphlet entitled Challenge to McCarthy, and asked to include a letter from Einstein to high school teacher William Frauenglass, who was under investigation by the Senate Internal Security Sub Committee.
On 26 January, 1954, Einstein sent a copy of the letter, which had appeared in the New York Times in June 1953, in which he told Frauenglass: "Every intellectual who is called before one of the committees ought to refuse to testify, he must be prepared for jail and economic ruin, in short, for the sacrifice of his personal welfare in the interest of the cultural welfare of this country".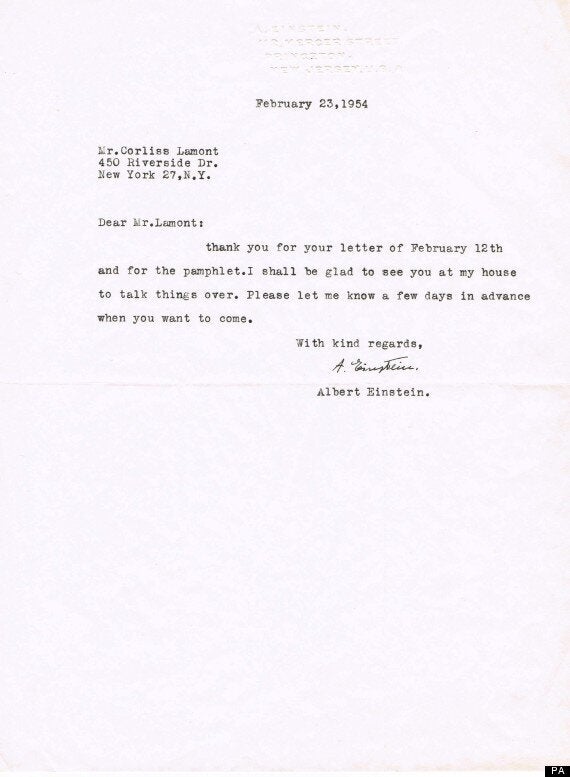 The letters will be selling at auction and are expected to attract a lot of interest
In his letter to Lamont, Einstein lamented that "a somewhat mutilated version" of the letter had appeared in the New York Times.
Lamont later sent him his pamphlet and on 23 February Einstein told him: "I shall be glad to see you at my house to talk things over."
In a fourth letter to Lamont, dated 16 October 1954, the physicist thanked him for a donation of money for "such an important cause".
He said: "In my opinion such an undertaking should be the rallying point for all those who are willing to protect the civil rights - as far as this is still possible under the prevailing circumstances - against infringement and assault by the authorities.
"This can be successful only if a number of known and respected citizens are willing to participate actively and to assume common responsibility for the use of the funds.
"There should not be one man's rule. Only in this way can such an enterprise have a salutary political effect."
The four previously-undiscovered letters were found in a yard sale, according to Guernsey-based PFC Auctions.
They are being sold at pfcauctions.com and are expected to attract worldwide interest.
Adrian Roose, from the auctioneers, said: "It's a unique collection. McCarthy once labelled Einstein an 'enemy of America'.
"Einstein risked his reputation in order to stand up for his political beliefs."
Related