José Mourinho could not contain his excitement ahead of managing Real Madrid against Manchester United, glamourously nicknaming it "the match the world is waiting for".
Mourinho was at Old Trafford on Sunday as United registered a comfortable win against Everton after Real had defeated Sevilla 4-1 on the previous night.
His second visit to the ground this season having watched United beat Everton's Merseyside neighbours Liverpool, Mourinho was happy to offer a soundbite to MUTV ahead of the first leg of the last 16 tie on Wednesday.
"It is the match the world is waiting for," a captivated Mourinho said.
"People think we are under pressure because a big team will be out but it is the kind of match we want and the people are not waiting for any other game. Mourinho cut a confident figure at Old Trafford on Sunday
"I hope we give them what they want."
Madrid and United have faced each other on four separate occasions dating back to the 1956-57 season but have not been drawn together in Europe for 10 years.
Mourinho's return to Old Trafford - the scene of one of his most iconic moments when Porto eliminated United from the Champions league nine years ago - is complemented by Cristiano Ronaldo's homecoming next month.
One of United's greatest ever players, the Portuguese warmed up for his old side by hitting a superb hat-trick against Sevilla at the weekend as he prepares to face his "father of football" Sir Alex Ferguson. Mourinho meanwhile is confident his friendship with the Scot will survive.
"I feel privileged about that because he is such an important person in the world of football and, more importantly, he is good person," said Mourinho.
"I have always had a fantastic relationship with him and I am proud of it.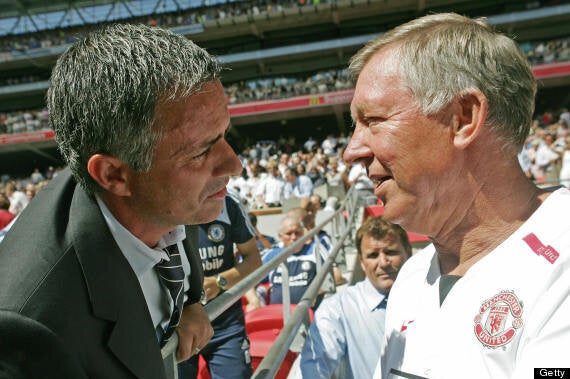 Mourinho greets Ferguson before the 2007 Community Shield
"We have had so many matches between us which started with Porto. We had some with Chelsea, Inter and now Real. Some I had won, some I have lost, others I have drawn.
"Of course, I want to win and he wants to win, but I believe the loser will have a little bit of space to feel a little bit happy because of the friendship.
"But make no mistake, I want to win."
Ferguson and Mourinho last shared the same dugout four years ago when United defeated Internazionale in the last 16 of the Champions League. Ronaldo scored United's second in their 2-0 second leg win.
Popular in the Community