Had it not have been for the FA Cup, it is feasible Manchester United could have ended February 2013 as they had ended the year's second month in 2001. Then they were 16 points clear of Arsenal and the league was officially won on 14 April. It was their third title in a row, which makes their present superiority all the more surprising.
Champions Manchester City haven't looked like champions the last few weeks and having taken two points from nine trail their city nemesis by 12 points. The clubs' contrasting summers in the transfer market is pivotal to the gulf, but more of that later.
Lee Cattermole and Harry Redknapp are two other talking-points from the weekend's football...
CITY FAILED TO PREPARE AND MUST BE PREPARED TO FAIL
What made Manchester City's Premier League win so galling for their red adversaries was the manner of it. City mimicked United with their stoppage-time winner against Queens Park Rangers and have a habit of recovering from losing positions, rising ominously like the Terminator. So their defeat at Southampton was conspicuous for it lacked a City salvo after Gareth Barry's comical own goal.
Barry doubled Southampton's lead on 48 minutes yet Artur Boruc was tested on just one notable occasion when he brilliantly repelled Sergio Agüero's volley. Yaya Touré, back from African Cup of Nations duty, looked fatigued and it looked as though it had spread. City resembled a mid-table side playing in May rather than a team defending their Premier League title.
Mancini could not hide his anger at St Mary's
In their 36th game of the season, City contradicted their supporters' "We'll fight to the end" chant at St. Mary's and Mancini's substitutions were as uninspiring as the performance. James Milner, Aleksander Kolarov and Maicon arrived, but looking at the other outfield alternatives - Jack Rodwell, Scott Sinclair and Kolo Touré - it underlined the weakness of City's squad despite the £291.75m spent under Mancini's tenure in three years.
On transfer deadline day City parted with £38m to sign Javi Garcia, Matija Nastasić, Maicon, Scott Sinclair and Jack Rodwell. Nastasić aside, they have been poor buys. Roberto Mancini had already expressed his unhappiness with technical director Brian Marwood about the club's inactivity in the market, and the ramshackle nature of the recruitment process highlighted a lack of preparation which should see them surrender their title.
GIGGS' RECOVERY ALL THE MORE IMPRESSIVE AFTER POOR START
This column said back in November Ryan Giggs was "past it" after his inclusion in Manchester United's first XI was instrumental to their loss at Norwich. Less than three months on and Giggs is flavour of the month.
His performances in the domestic cup games have been the stand out contributions in his 23rd campaign but his serene, 13th-minute opener against Everton calmed any nerves at Old Trafford as the 39-year-old scored in his 23rd consecutive league season.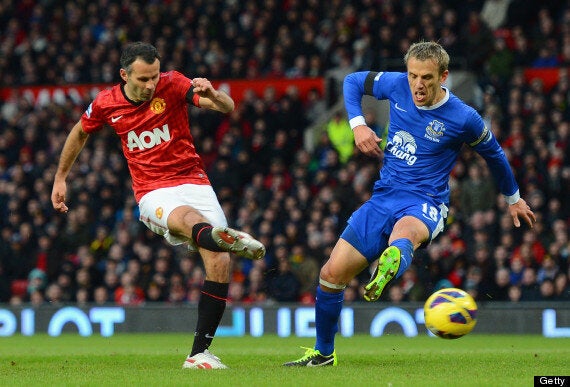 Giggs finished superbly for United's opener against Everton
Giggs' display has been overstated in the papers this morning, but the Welshman does deserve plaudits for his resurgence over the past two months. He was experiencing an abject campaign until a flamboyant cameo at Swansea galvanised what many had assumed would be his final season in football.
When used sparingly (and minus his fellow OAP Scholes) he can still be effective, however Giggs' presence in the first-team is partly due to Sir Alex Ferguson's blind spot in midfield. Whether Ferguson signs one for the first time in six years is irrelevant though; he announced Giggs would play on into his 40th year last month.
KICKER CATTERMOLE SHOULD BE KICKED OUT
Lee Cattermole had not started a Premier League game for 74 days and it took him just 88 seconds to get booked against Arsenal after he viciously clattered into Aaron Ramsey. The Sunderland midfielder, not yet 25, has been sent off seven times in his career and the scout who discovered him has a lot to answer for. Jack Wilshere could be forgiven for looking nervous
A danger to any opponent, he was substituted at half-time in the Black Cats' 1-0 defeat. Hopefully it will be the last we see of him for another 74 days.
REDKNAPP GETS WHAT HE DESERVES
Bottom of the league and with just two wins to their name all season, QPR manager Harry Redknapp decided against fielding a striker at Swansea City. The Rs lost 4-1 and their only goal came via substitute Bobby Zamora, a striker.
Still smarting from new signing Loïc Rémy's injury, it was still inexplicable of Redknapp to field Jamie Mackie and Adel Taarabt up front again after the duo fired blanks at Norwich the previous week. Although QPR addressed their defensive issues with Christopher Samba joining the failure to sign another striker in the transfer window, when Andros Townsend and Jermaine Jenas also joined, seems negligent. The crafty Esteban Granero again sat on the substitutes' bench as the inadequate Shaun Derry started ahead of him. "Why didn't I play a striker?"
It is difficult to think of a time Redknapp was associated with negativity and he has chosen the worst possible time for it to start. QPR lie seven points adrift of the safety zone.