Sir Alex Ferguson described Manchester United's 2-0 win against Everton as "comfortable", as they surged 12 points clear of Manchester City. Yet had City trimmed the lead temporarily it could instead have made for an uncomfortable afternoon.
Ferguson admitted he had planned to make seven changes from United's slender win at Fulham the previous week, even though his infamous tinkering has often hampered his team.
However Southampton's 3-1 victory against City persuaded him to reconsider ahead of Wednesday's glamour tie with Real Madrid in the Champions League.
"As soon as I saw the result at Southampton I thought this was an opportunity for us to get a real comfortable lead," Ferguson explained after United's win. "I scrapped the changes I originally planned to make. Ferguson applauds United fans after the victory against Everton
"I was going to make about seven changes but it was about being realistic. We knew if we could get a result then it put us in a fantastic position and we can make changes later on in the season."
He contradicted himself when he added "It doesn't matter what happened to City" and ultimately, it was just the three alterations from the line-up which started at Craven Cottage.
Ferguson's tinker habits can be dated as far back to 1995 when he dropped Mark Hughes for the must-win final league game of the season at West Ham, starting Andy Cole up front on his own. And to little fanfare, he went 165 games without naming an unchanged side until he preserved United's starting XI at Chelsea in March 2011.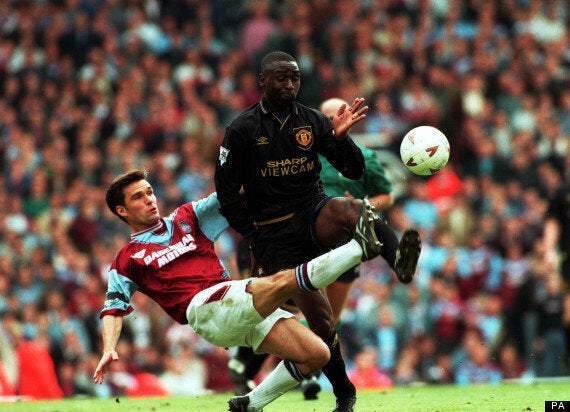 Cole experienced an afternoon to forget at Upton Park in May 1995
All three of United's league defeats this campaign have largely been owed to odd selections or needless rotation. In the reverse fixture versus Everton, Ferguson needlessly fielded two midfielders in defence while against Tottenham Wayne Rooney started on the bench and the inclusion of both Paul Scholes and Ryan Giggs was suicidal. The latter was withdrawn at half-time.
So renowned is Ferguson's tombola one fanzine's photoshop wizard mocked him up as Gary Oldman's George Smiley for a Tinker Tailor Soldier Spy poster. Like Smiley, it appears as though he will get the job done too.
Popular in the Community