Rachel Ray spent years as a trained accountant before deciding to abandon the city and start up a housekeeping service called Bright and Beautiful.
Her aim, as well as to satisfy her entrepreneurial urge, was to provide Manchester's women who wanted to juggle a career with family life with a good employment, and the option to launch their own franchise.
Here, she tells us why she was so passionate about supporting working mums, and why even in a recession, her business has continued to grow.
What were you doing before launching Bright and Beautiful?
I spent seven years or so working as a chartered accountant, but then I got frustrated.
In 1997 I worked for a business consultancy working with accountancy firms and small and medium enterprise clients – I started as a junior consultant and soon became the international client senior director.
In 2000 I moved to Australia with the company and became a director there – the turnover of that business was about £2 million a year and had a team of 30; we had about 300 accountancy firms and clients that we worked for.
Then in 2003 I came back to the UK. I'd had my first daughter in 2002 and we moved back when she was one. I went into freelancing as a business consultant with some of my former clients for two or three days a week.
By 2004 I had my second daughter and was still working three days a week, but I was still frustrated. Although I seemingly had family-friendly hours, I wanted to take more control of my own diary, and if I wanted to prioritise my kids' parents event, or their after school event, I wanted to be able to.
By this point I had also started to have an entrepreneurial urge, but it took another two years of me operating as a freelance before I officially launched Bright and Beautiful in 2007.
Where did the idea for Bright and Beautiful come from?
The inspiration was driven by my appreciation as a working mum that I didn't have time to manage my home, do the laundry, do all the cleaning… I didn't just want a cleaning service, they already existed, but nobody was offering the service of managing your home to a high professional standard.
I was passionate about eco-friendly products too – lots of your standard cleaning products that contain carcinogens that have cancer risks.
And I wanted to provide a good place of employment for the whole team; many cleaning agencies hire people on a self employed basis where they have to fund their own transport and don't get any holiday or sick pay – it's not highly regulated and I felt agency workers were often exploited.
Every housekeeper I employ gets 28 days holiday a year and has full employment rights. We have a mixture of full and part time workers on board.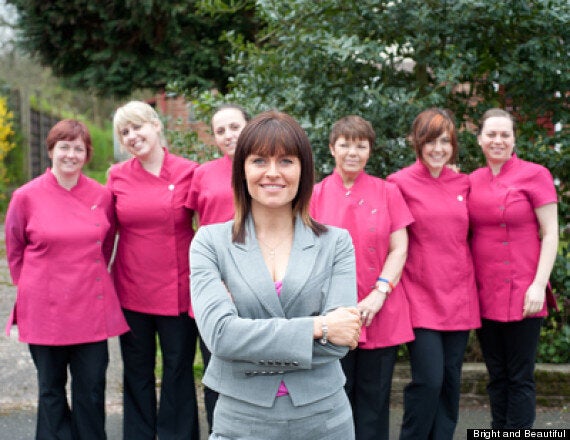 One of Rachel's franchisees, Faye, and her team
How did you fund the business initially?
I took out a £10,000 personal loan and built it from there, investing as I went. I took a very limited income for the first few years.
My vision was always to franchise the business to empower other women to set up their own entrepreneurial venture.
Our first franchise was launched in June 2010 by one of my first employees, Faye. I spotted the potential in her and she is earning in excess of £50,000 a year now, all in part time hours around her kids' schooling.
What hurdles did you face initially?
The biggest challenge was getting the infrastructure right – it was hard investing the time an energy into getting the HR and recruitment processes right, the health and safety processes, learning employment law and so on.
I really think that sort of thing puts people off employing people – it scares them. After we got over that hurdle is was about building momentum. The whole process was a lot easier once we'd got the first franchise up and running, as it acted as a template for the others.
What mistakes did you make along the way?
One of our mantras is 'blame the process, not the person'. Post mortems where you look at improving the processes rather than blaming it on the person are so much better.
For example, we were recruiting the wrong people at times so we looked again at the interview process to see where we were going wrong. We also experienced some service delivery mistakes where the standards weren't quite right, and again we looked at how we could improve the process behind that.
By blaming the process and not the people, it takes all the fear out of making mistakes, which means when they happen it stops that desire to try and cover them up.
Big firms are often ruled by fear, and people are encouraged to cover their tracks and blame the culture, or stab colleagues in the back; we're the antithesis of that. It's liberating, but also builds a better culture for the business.
Has the recession affected your business at all?
The recession hit a year after we started, but to be honest the work hasn't dried up. I was worried, thinking people would cut back on spending on that sort of service, but actually people are working longer hours than ever just to keep their job.
It's become a necessity to have your home looked after, we've seen continual growth every week. I've only ever worked through a recession, so I'd love to see what it's like when the economy recovers. Bring on the boom!
What advice would you give to other women considering setting up on their own?
Do your research and find an industry with a proven demand. Housekeeping wasn't something I'd have initially chosen, but I knew who the client was because I could've been the client.
You can't just jump into doing something because you love it, it needs to be recession-proof. Sometimes you see entrepreneurs picking a business sector because it's their hobby, but if there's no sustainable demand the business fails.