Arsenal look set to go at least nine years without a trophy, Manchester City showed them how it was done against a Championship side and Andy Townsened was back for more. Here are five things learned from the weekend of FA Cup football.
If there were any loyalists left against the belief this campaign should be Arsène Wenger's last then Blackburn Rovers may have reduced the membership at the weekend. Arsenal's elimination from the FA Cup at the hands of a Championship side was a glaring contradiction in the Wenger stewardship as he bizarrely prioritised winning the Champions League over winning the FA Cup.
Against a fourth-tier team in December the Frenchman played a near full-strength side in the League Cup, so starved of success are Arsenal. Wenger spun it as an opportunity for first-team players to maintain their sharpness since the team's next game was six days away, but the desperation was obvious. Wenger looks forlorn as Arsenal surrender to Blackburn
He later admitted fourth place was like winning a trophy, and it is that mediocre contentment which is likely to result in the Gunners going nine years without lifting a pot. Fourth doesn't even assure a club of a group stage berth.
It would make sense for Wenger to go even if Arsenal somehow win the Champions League. They may rally against Bayern Munich at the Emirates - like they did against Barcelona in successive seasons - but the comedown in Munich is as inevitable as another potless season. They are four players - at least - shy of contending for the Premier League title and four miles away Tottenham boast a superior squad on course for finishing above Arsenal for the first time since 1995. The times they are a-changin', and Arsenal need change.
CITY SHOW ARSENAL HOW TO DO IT
Twelve points behind Manchester United and out of Europe all together, Roberto Mancini took few chances when Leeds United visited Eastlands as Manchester City trounced their opponents. City were three or four players shy of their best XI and called upon Carlos Tévez, Sergio Agüero, David Silva and Yaya Touré to extinguish Leeds' hopes of a fourth Premier League cup scalp this season, whereas Arsenal's four main attackers were benched. The boot's on the other foot, Michael
Leeds' all-kicking-all-mouthing wind-up merchant Michael Brown had a short-lived afternoon when Javi Garcia meted out some revenge on behalf of many a Premier and Football League player. City were not about to be intimidated just because cup romanticists Leeds and their thousands of rumbustious supporters were in town.
FA CUP ENJOYING ITS BEST YEAR SINCE 2008
This year's FA Cup has defied the naysayers to enjoy a welcome resurgence and a former Manchester University student scored his third goal against a Premier League club in under a month at the weekend.
Throughout the course of the three rounds since Premier League and Champioship clubs entered the reckoning the draws have been uninspiring, and it is testament to that how good cup weekends have been. In recent years, they have become a nuisance akin to international weeks as supporters lamented their league football deprivation. But the fourth-round shocks, coupled with Blackburn's astonishing result at the Emirates, have provided a unique and nostalgic mix. And Smith must have scored...
The Manchester clubs, Chelsea and Everton remain in the reckoning, with a Championship side guaranteed of a last four berth. Hopefully the 2008 similarities don't extend to that year's turgid final.
ONCE... TWICE... THRICE... FOUR TIMES A TOWNSEND
Football enthusiasts will watch most games and with Sky forbidden from showing Liverpool thrash Swansea at the weekend it was an FA Cup marathon. And what a marathon it is when Andy Townsend is commentating on Saturday AND Sunday.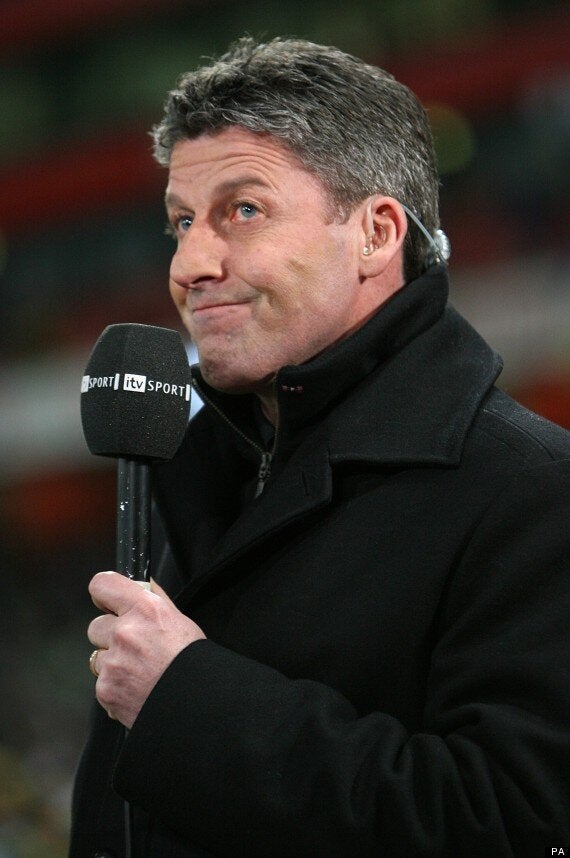 This was a double double dosage after the former talkSPORT man was on mic for Celtic-Juventus and Tottenham-Lyon earlier in the week. If anyone is to blame for Celtic whinging about being beaten than a better team 3-0 it is Townsend, a Maidstone-born Republic of Ireland international who sounded as biased as Billy Connolly during ITV's coverage. That was just part one of a horror quadrilogy to rival the Saw series, with Jim Beglin and Craig Burley another gruesome twosome.
John Terry, as he admitted in court last year, is "not everyone's cup of tea". He is also perhaps the only player who would choose to celebrate his team's fourth goal in a whitewash against a League One side like he did.
It sounds like a moot point. Player scores. Player celebrates. What's wrong with that? Well the classy Juan Mata opted for restraint after netting Chelsea's opener against Brentford. And why was he restrained? Because it's Brentford. "I've only gone and done it against Brentford!"
In the first game at Griffin Park Fernando Torres proved everybody's point by making a 'shhhh' gesture at Bees fans. At least some have standards at the Bridge.
Related