A teenage university student who died after he was gunned down in an apparently random attack was described as a young man whose "smile will charm the angels".
Joseph Burke-Monerville, 19, was in a parked car when he was shot in Hindrey Road, Clapton, east London, on Saturday evening.
Mr Burke-Monerville, who according to his Facebook page was studying forensic science at the London Metropolitan University, had no links to gangs, Scotland Yard believe.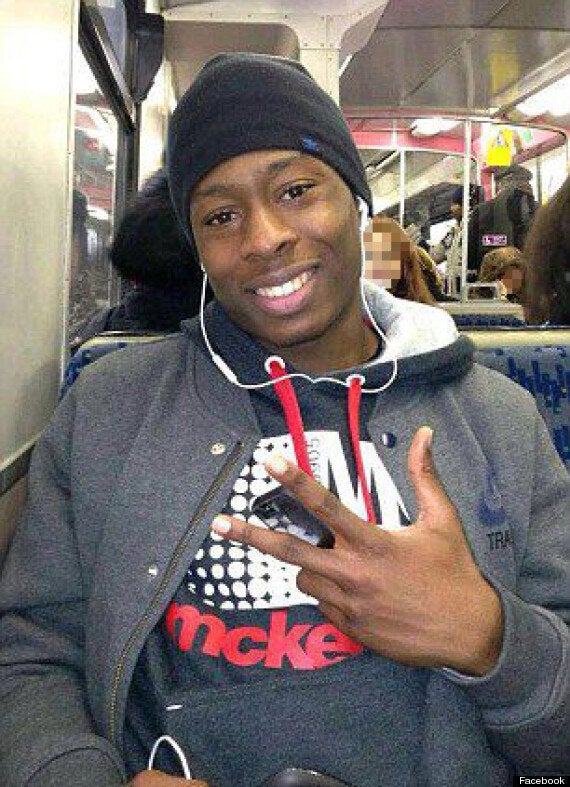 Student Joseph Burke-Monerville was shot and killed in East London
He was rushed to hospital but died later. A 22-year-old man who was also in the car remains in a serious but stable condition, while a third man, aged 19, was also in the vehicle but escaped unhurt, police said.
Mr Burke-Monerville had spoken on Facebook of his excitement about a planned holiday to Magaluf on the Spanish island of Majorca next week, which he said would be "a week 'off' stress".
He wrote that he had previously attended Aloysius' Roman Catholic College, in Highgate, north London and Wesley High School, in Otukpo, Nassarawa, Nigeria.
Mr Burke-Monerville, from the Islington area, died at about 11.10pm, police said. A post-mortem examination is due to take place on Monday.
Police said there was as yet no clear motive for the shootings, and no-one has been arrested.
Detectives from Operation Trident, which investigates gang-related crime, are hunting the two suspects seen running from the scene.
One is black, police said, while the second is light-skinned, possibly of Asian or Turkish appearance.
They were seen running away from Hindrey Road after the shooting towards the nearby Pembury Estate.
Det Chief Insp Kenny McDonald, who is leading the inquiry, said: "Our early inquiries suggest that Joseph and those he was in the car with have no links to gangs. We continue to work to try and establish the motive for this murder.
"I would urge anyone who was in the area at the time of the shooting and may have seen the incident, or two males fleeing the scene, to contact officers."
Terrified witnesses described how two men wearing bandanas walked into Hindrey Road at about 8.20pm on Saturday when three gunshots were fired.
Zach Carpenter, 18, said one of the men was black with a red and white chequered bandana, while the other man was white and was wearing a black bandana.
"I was walking home from the shop when I saw a black man and a white man walking down the main road and turn into Hindrey Road. After about 30 seconds I heard three loud bangs," he said.
"It's unnerved me a bit because my family live nearby."
The Aberystwyth University student, whose family has lived in the area since he was 10 months old, said there were known feuds between gangs on rival estates.
"It's not so much a war, more of a feud between the Pembury and Nightingale estates, and another one," he said.
A resident who did not wish to be named said she heard three gunshots.
The 70-year-old woman said: "I heard the shots - one, two, three.
"I was on the phone to my son and he told me not to dare look out the house.
"It's been a lot better around here recently. There hasn't been anything like this for many years."
Another resident, who has lived in the area for more than 20 years, said: "With this happening now, I don't think people will feel safe.
"There have been shootings here before but this is the first murder."
Tributes poured into social networking sites as friends expressed their shock at the shooting.
Timothy Timi-Kehinde Gbadeyan, a close friend of Mr Burke-Monerville, wrote on Facebook: "I always hear about gun crimes, never thought my brother will ever be a victim. RIP Joseph Burke-Monerville."
Michaela Georgiou Francis described the killing as "disgusting", adding that people like Joseph didn't "live that life".
"Such a wonderful loving young man," she added.
"He was gonna do amazing things. His smile will charm the angels. Neva forgotten.x"
Meanwhile, Antoinette Williams wrote on Twitter: "RIP Joseph Burke-Monerville, you will truly be missed, may your soul rest in perfect peace."
Hindrey Road remained cordoned off last night as police continued to examine the scene.
Witnesses to the shooting or anyone with information about the incident are asked to call police on 101 or Crimestoppers on 0800 555 111.
Popular in the Community