Goal-line technology will be used at the 2014 World Cup, Fifa has announced.
Following a successful trial at the Club World Cup in Japan last year, world football's governing body has today confirmed the technology will also be in place at the Confederations Cup in the summer ahead of next year's showpiece in Brazil.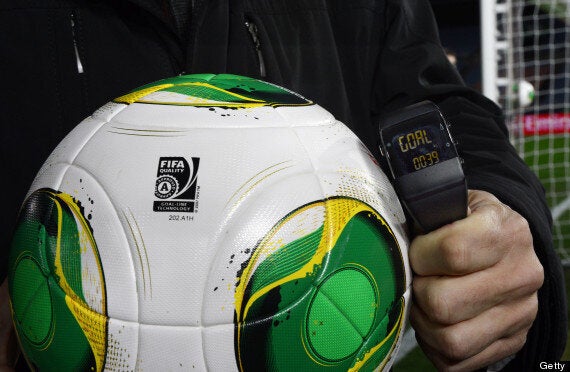 Goal-line technology on display in Japan last year
"With different technologies on the market, FIFA has launched a tender today, setting out the technical requirements for the two forthcoming competitions in Brazil.

The two GLT providers already licensed under FIFA's Quality Programme for GLT, and other GLT providers currently in the licensing process (that must have passed all relevant tests as of today) are invited to submit tenders.

Interested GLT companies will be invited to join an inspection visit to the Confederations Cup venues, currently scheduled for mid-March, with a final decision due to be confirmed in early April." England were denied an equaliser against Germany at the 2010 World Cup
Hawk-Eye and GoalRef both have FIFA approval and are set to compete against each other, and possibly other manufacturers, for the World Cup rights.
HawkEye involves the use of cameras whereas GoalRef is a more scientific system which involves an electronic circuit in the ball, with goal confirmation being transmitted to a watch worn by the referee almost immediately.
Fifa's much derided president Sepp Blatter has previously said he was compelled to introduce the technology after Frank Lampard was denied a clear goal playing for England against Germany at the 2010 World Cup.
Tennis and cricket already use technology at the highest level, which has alleviated the pressure on umpires and players able to turn to replays of key incidents for clarification.
Popular in the Community