Adele's winning streak continued at the Brit Awards 2013 on Wednesday evening, with an award for Best British Single for her James Bond theme, 'Skyfall'.
The record-breaking songstress beamed her 'thank you' speech from LA, where she is currently rehearsing for the Oscars on Sunday evening, where the same track is nominated in the Best Song category.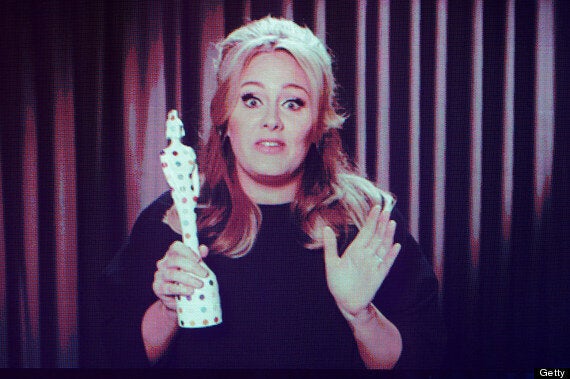 Adele made sure she wasn't cut short this year, beaming her thankyou speech from LA
With a big smile, she thanked voters for ensuring she picked up the award, but said she wouldn't go on speaking too long - "I won't keep you too long, as I don't want to interrupt the Best Album speech at the end of the night..."
(We all know what this referred to - click here for a quick reminder of a moment when Adele was a bit less sanguine about her treatment).
James Corden was very careful not to upset her this year, checking one, twice and once more that Adele had finished speaking before he continued with the show.