The 33rd Brit Awards turned out to be a tame affair. Of all the big name performers, pyrotechnics and pop hits, the ceremony was lacking one thing - that "oh my God" controversial moment that everyone talks about the next day.
Host James Corden came closest to 'risque' when he sat on Radio 1 DJ Nick Grimshaw's lap for a kiss. And Sharon Osbourne also tried her hardest for a gasp, when she went for a penis joke - referencing Harry Potter's stick when she meant Harry Styles - a line that fell embarrassingly flat with the audience. Personally, my most dramatic moment came when I spilt a plastic cup of red wine in front of the candy floss-costumed Little Mix girls in the ladies' toilet. Fortunately, they were too worried about picking up their clutch bags to realise.
For my male colleague, the washroom also seemed the place to be if you wanted any unique celeb sightings outside the overcrowded, ice cold, red carpet and the ceremony that was being screened live to the world.
On his first trip to the gents he bumped into the one and only music mogul Simon Cowell. "He's built like a brick sh*t house," he eloquently exclaimed, shocked that the man from 'X Factor' is actually much bigger than he seems on TV.
From inside the ceremony, Cowell was also the man who received the loudest cheer from the audience once the cameras panned to him at a round table next to a pretty blonde, all open white shirt and chewing gum munching.
Later in the night, the loos once again proved the place to be as my fellow HuffPoster bumped into none other than his teenage hero Dave Grohl. He spent the rest of the night kicking himself after they apparently locked eyes but he was too taken aback (he says 'busy being professional') to ask for a picture. Grohl pleased more than just this one fan at the Brits though, as he told host Corden he would be flying home to work on a new Foo Fighters record the next day. Corden did his best to wean more details out of the legendary rocker, asking when we could expect to hear the record but all he said with a teasing smile was "eventually". All of this occurred on what would have been late Nirvana frontman Kurt Cobain's 46th birthday.
Inside the ceremony it was the people on the exclusive alcohol-covered twinkling tables in front of the stage, mainly industry bods and music stars, who were having to be kept in check after some were spotted reading off the autocue while Corden was about. Apparently it ruins the illusion.
In past years, Brits performers have pushed the boundaries with raunchy outfits and sexed-up dance routines, namely Rihanna with S&M in 2011 and Geri Halliwell with that Union Jack dress in 1997. This year there was only one star who's outfit did anything particularly surprising - Miss Taylor Swift. The show was lacking any distinct female attitude until the girl that's made country cool again came onto stage. She played coy - initially - in a period white dress as she started the performance of her hit song 'Trouble', rumoured to be about recent ex One Direction's Harry Styles.
But as her writhing dancers ripped off her dress to reveal a black lace top, hotpants and a very lengthy set of pins, we all discovered this is one girl you shouldn't mess with. She famously writes her songs about her breakups and her Brits performance showed no evidence of why she should she stop - she sure knows how to make an ex (and everyone else) think, wow.
Asked for his esteemed opinion on Swift's performance, the man who has more Brits than anyone else, Robbie Williams, decided: "She's really fit." As for a breathtaking vocal performance that will be replayed on YouTube as much as Adele's 2011 'Someone Like You'? There wasn't one. But Emeli Sande's closing mash up of her ballad 'Clown' and the upbeat 'Next To Me', a performance that didn't need stage fireworks or garish props, was the first and last song to get almost everyone inside the 02 on their feet.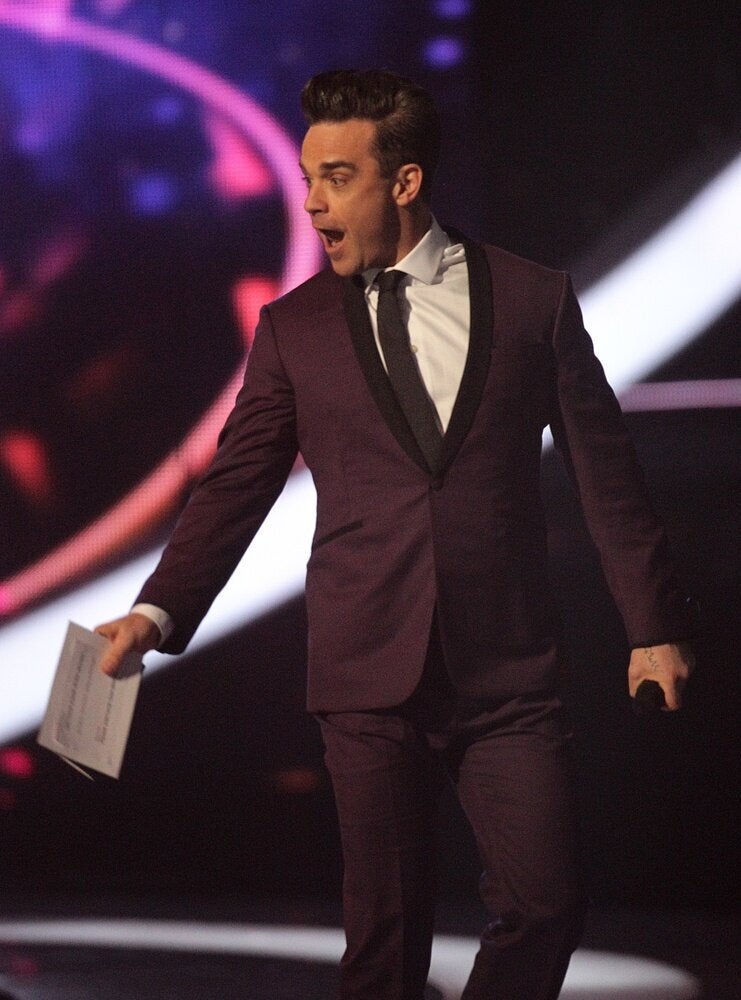 BRIT Awards 2013 - Inside Show