Oscar Pistorius has been granted bail by Magistrate Desmond Nair after a marathon hearing in Pretoria Magistrates' Court ahead of the full trial for the death of Reeva Steenkamp.
Supporters greeted the verdict with a celebratory "Yes" before the Pistorius family stood together in a circle praying after a draining 90 minutes.
The trial is scheduled for 4 June. Pistorius in court on Friday
Nair's main reasons for granting bail were as follows:
He did not think Pistorius posed a flight risk.
He did not think the prosecution had shown Pistorius had a propensity for violence.
He did not think there would be public outrage if he were released on bail, as the prosecution suggested.
"The accused is not a flight risk and does not show a propensity to violence," Nair announced.
"Ordinarily one gets flimsy affidavits but in this instance the accused has reached out to try to meet the state's case."
However Nair he added one should differentiate between cases and charges, and reported incidents.
Pistorius' bail is set at 1million Rand (£73,822), with the magistrate asking for 100,000 Rand (£7,382) straight away as a guarantee. The conditions of the bail are Pistorius is not to return to his home in the Silverwood estates, he is not to leave South Africa, he must hand over all passports and report to the Brooklyn police station between 7 and 1 every Monday to Friday.
He must also surrender his guns and inform authorities if he leaves Pretoria and must refrain from alcohol during proceedings. Pistorius's coach, Ampie Louw, who described the athlete as "heartbroken" over the death of his girlfriend, said earlier if he was given bail he could resume training next week.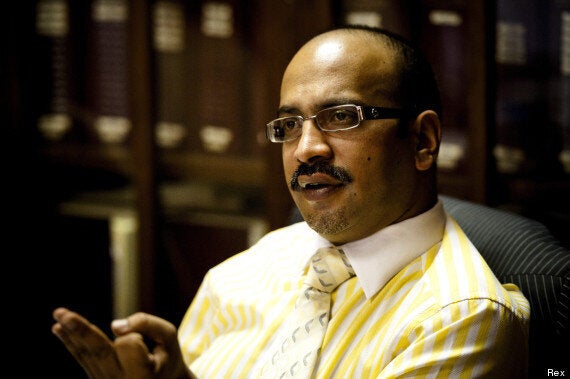 Magistrate Desmond Nair in 2010
The only words Pistorius uttered in court all day were "Yes your worship," when asked if he understood the terms of his bail.
Pistorius' brother spoke briefly after the verdict was announced.
"He's relieved," Carl Pistorius said. "I'm relieved but it's a long road ahead."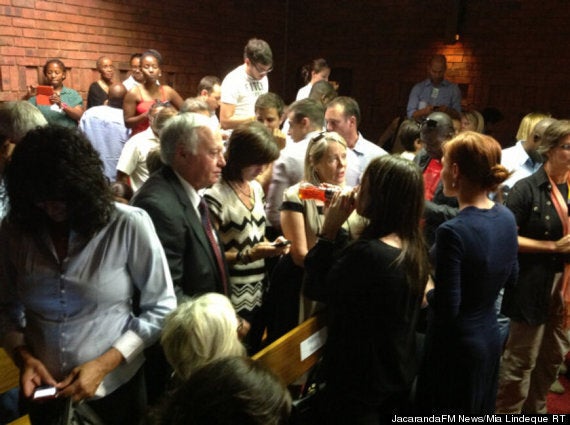 Pistorius' family prays together after the verdict is announced
His uncle Arnold Pistorius added outside the court the family believe Pistorius's version of what happened "that tragic night" is the truth and are also "in mourning".
Pistorius' head remained bowed as Nair delivered his verdict on Friday afternoon, eight days after the Olympian shot 29-year-old Ms Steenkamp three times on Valentine's Day.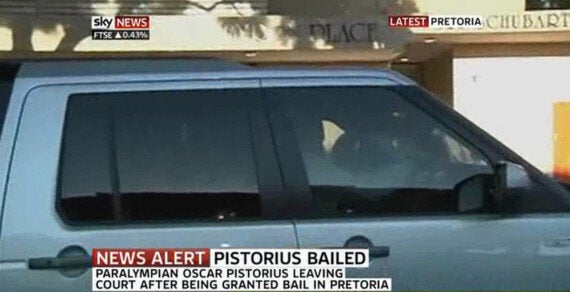 A screengrab of Pistorius leaving court
Nair said: "I am not at this point seized with issue of finding beyond reasonable doubt that he had committed pre-meditated murder."
The 26-year-old Paralympic gold medallist began "crying loudly" as Nair recounted Pistorius's version of events prior to the death of Ms Steenkamp. At one point, Nair asked, "Are you okay there?" Nair explained the "distorting effects" of televised hearings was why he permitted only audio recordings in court, and referred to the media's reaction to Pistorius' presence as seeing a "species the world had never seen before". The magistrate was visibly annoyed with detective Hilton Botha's investigation and highlighted he "may well have contaminated the crime scene by not wearing protective shoes".
Although the magistrate did outline the case's numerous "improbabilities".