Fickle is maybe the most frequent and misused adjective to describe football fans. Some are but others retain their principles and are only heard when people can be bothered to listen. One Everton supporters' club has been vocal about their disenchantment with their club whether they win, lose or draw for some years now, but one viewpoint following the weekend loss at Norwich City pricked up the ears of other Blues.
Approaching 11 years in a job usually suggests either one or two things; success or stagnation, but David Moyes' tenure at Everton is a combination of both. The supporters' club used "stagnant" to describe the state of the club at the weekend before the tweet was deleted after a backlash from a flurry of followers, perhaps fearful they looked like knee-jerks.
Everton have lost just five Barclays Premier League games this campaign - that's less than Chelsea, Tottenham and Arsenal - but are sixth in the table. Back-to-back defeats at Manchester United and Norwich have shed a perspective light on a club which started the season uncharacteristically well but seems to have risked jeopardising its final act, and the buck stops with Moyes.
It seems folly to question Moyes when he has presided over a good season to date with the club likely to reach a second successive FA Cup semi-final. The padlocked purse strings at Goodison Park make it a commendable achievement and they could finish above Liverpool again, which helps in the popularity stakes. But the fact remains Moyes is a less successful Everton manager in 11 years than Joe Royle, who managed a squad which ought to have been seasonal relegation fodder, was in three.
Moyes recently admitted he would make a decision on whether to continue with Everton this summer. The irony is, despite nationwide perception, there are plenty of Everton fans who would happily see the Scot go, dismissive of suggestions they cannot afford to lose him.
Everton fans can be a sensitive bunch, and that has something to do with how they are patronised by the wider media. A club who has won more titles than Chelsea, Manchester City and Tottenham, they are nevertheless regarded as little more than also-rans. Controversy is not synonymous with the club; they are top-half-of-the-table certainties, Moyes is never subjected to criticism and their ground holds less than 40,000 supporters with little scope for improvement.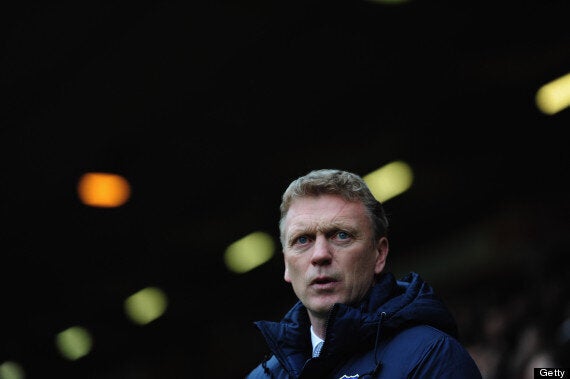 Moyes' will have spent 11 years with Everton in March
Only there is. Once upon a time Moyes' Everton qualified for the Champions League with Thomas Gravesen and Lee Carsley in midfield, only to fall at the first hurdle in pre-qualifying against Villarreal in 2005. Their notable achievements since then have been losing an ignominious FA Cup final in 2009 loss and an even more ignominious semi-final defeat last year. In both games Everton took the lead and then attempted to defend that advantage, in the case of the final against Chelsea, for 89 minutes and 35 seconds after Louis Saha's record-breaking opener.
Brendan Rodgers may be lampooned for David Brent-like delusion but his approach is positive, which cannot always be said about Moyes. He freed his team of their ultra-defensive shackles earlier this season but there are signs Everton are resorting to reticence. The headline on the club website after the Norwich loss was "Moyes: We Needed A Second", yet he withdrew the team's only striker in Nikica Jelavić for a non-striker. The "second" could also refer to a striker, as well as a goal.
Then there is his record at the big clubs. In his time at Everton, the Toffees have not won at Manchester United, Chelsea, Arsenal or Liverpool once in the league, with their 2011 FA Cup success at Stamford Bridge coming after a penalty shootout. It is a record associated with an above-mid-table side.
Aged 38 when he arrived on Merseyside in March 2002, Moyes turns 50 in April and finds himself in a rut. He reportedly earns £65,000 a week, is backed by an owner in Bill Kenwright whose heart is in the right place but hardly invests in the club, and can hope for Europa League football at best. He has worked hard for it, but it is a cushy job and the likelihood is he will move on to a better one in the future.
Despite their pretentions, a Champions League spot was beyond Everton before they drew 3-3 at home with the league's second from bottom side earlier this month. Restricted at boardroom level, Moyes may well prove himself to be a managerial winner but it is unlikely to be on L4. Him and Everton parting may be for the better of both parties if they want to fulfil their ambitions.