Mario Balotelli's return to the Milan derby was marred by more racist abuse aimed at the AC Milan striker by Internazionale supporters.
Balotelli, part of Inter's 2010 treble-winning squad, is always destined to cop some flak from the Nerazzurra from when he wore an AC shirt while playing for their city rivals. Javier Zanetti speaks with an irate Balotelli
However newspaper Gazzetta dello Sport were among those to report inflatable bananas were being waved by Inter supports during the 1-1 draw.
Balotelli was also seen to raise his finger to his lips in an apparent bid to silence his detractors, as Inter captain Javier Zanetti attempted to placate him.
Disturbingly this is the third time Balotelli has been the victim of a race storm since he joined Milan less than a month ago.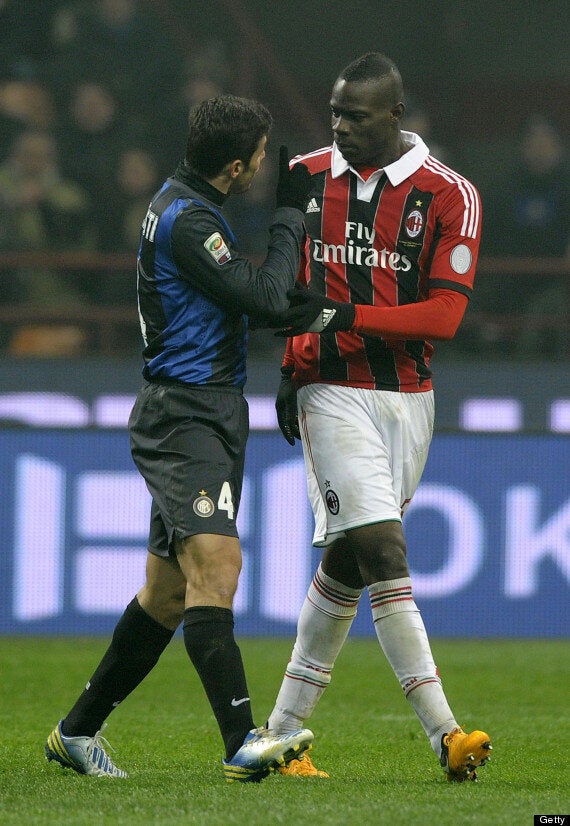 Zanetti tries to placate Balotelli
Aside from Inter fans' taunts last week, he was described by Silvio Berlusconi's brother Paolo - Milan's vice-president - as "the family's little n****r".
That led to accusations of hypocrisy at the Rossoneri just four weeks after Silvio Berlusconi praised midfielder Kevin-Prince Boateng for walking off the pitch after he was racially abused during a friendly against Pro Patria.
Sunday night's Milan derby game ended 1-1.