The world's largest food companies have been named and shamed because they fall short of ethical standards.
Oxfam said global brands including Nestle, Mars Coca-Cola were profiting from a "broken system" and not doing enough for their workers, local communities or the environment.
Its hard-hitting study also said the owners of household names including Kingsmill, Silverspoon and Old El Paso were all failing.
Oxfam Chief Executive Barbara Stocking said customers should know the impact their food was having on the world's poorest people.
She added: "It is time the veil of secrecy shrouding this multi-billion dollar industry was lifted."
The charity has compiled a new scorecard, rating the largest 10 food companies in seven categories. These included the transparency of their supply chain, workers' rights, and the companies' environmental impact.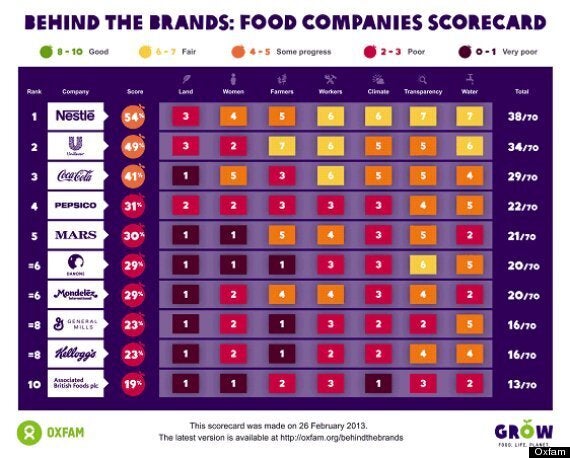 Oxfam has produced a scorecard to compare the companies' records
The Behind the Brands scorecard campaign, launched on Tuesday, comes as the food supply chain is under close scrutiny amid the growing horse meat scandal.
The company with the lowest score - just 13 out of 70 - was food giant Associated British Foods (ABF), which owns well-known brands including Kingsmill, Silverspoon and Ovaltine.
It scored just one out of 10 in its treatment of land, women and climate change, while the highest scores it managed to achieve was three, in relation to workers and transparency.
ABF hit back strongly, saying the claims of secrecy were "simply ridiculous". Oxfam criticised the world's biggest food companies
In joint second lowest place were Kellogg's and General Mills, which owns Old El Paso, Haagen-Dazs and Nature Valley, with both scoring 16 out of 70.
Oxfam said ABF and Kellogg's had failed to address land rights concerns or the poverty-stricken women working in the supply chain.
The company with the highest score was Nestle - although it only managed 38 out of 70.
Oxfam said that while all 10 companies have acknowledged the need for a more just food system and have made commitments to that end, they are still failing to take adequate steps.
While some of the companies had publicly committed to women's rights, none had committed to ending discrimination in their supply chain, and none had adequate policies to protect communities from land grabs.
Five of them publicly report on agricultural emissions associated with their products.
Stocking added: "The hundreds of brands lining supermarket shelves are predominantly owned by just 10 huge companies which have combined revenues of more than one billion dollars a day whilst one in eight people go to bed hungry every night."
The food giants strongly defended their records.
An ABF spokesman said: "The idea that ABF would use a 'veil of secrecy' in order to hide the 'human cost' of its supply chain is simply ridiculous.
"We treat local producers, communities and the environment with the utmost respect. The company has worked hard for many years, over a wide geography, at all levels of the supply chain to ensure its suppliers meet the highest ethical standards."
Transparency was issue for "each individual business to deal with in its own way", it added.
Coca-Cola said it was "committed to implementing practices throughout our supply chain that advance our sustainable agriculture strategy and support our commitment to build more sustainable communities."
And a Mars spokeswoman said proving food for the world's growing population was "one of the great challenges of our time."
She said: "Oxfam highlights important issues in their report and we look forward to working with them to address these critical issues."