The PGA Tour has come out against the proposed ban of anchored putters from 2016 - but is not saying yet what it will do if the ban comes into force.
The rule-making Royal and Ancient Club and United States Golf Association are in a period of consultation at the moment, but the US tour's announcement will probably give them real cause for thought, especially as the PGA of America are also against the move.
Tour commissioner Tim Finchem said: "Our player advisory council looked at it twice. We had the USGA come in and make a presentation to a player meeting in San Diego and the USGA made a presentation to our board.
"We researched and looked at it and articulated our position at the end of last week to the USGA and shared that thinking also with the R&A.
"Essentially where the PGA Tour came down was that they did not think that banning anchoring was in the best interest of golf or the PGA Tour."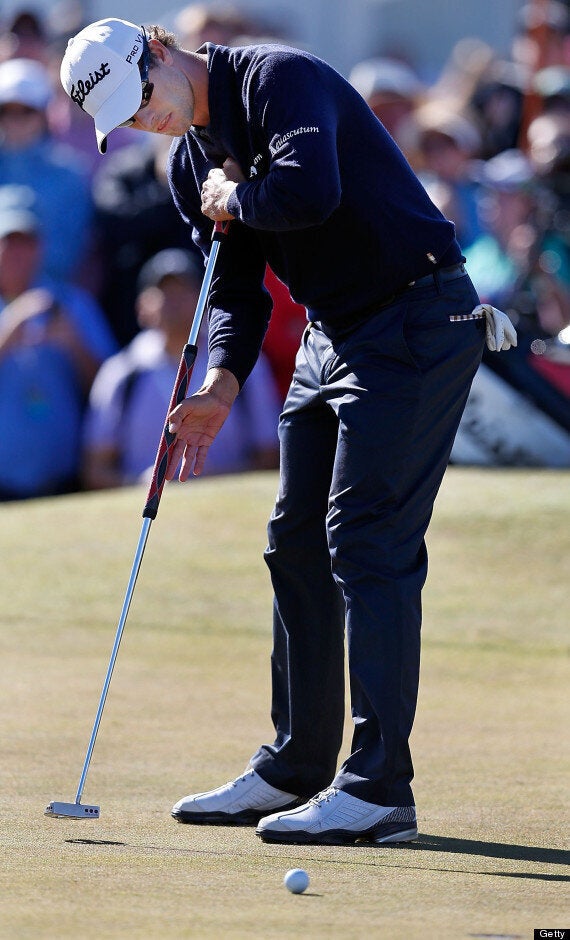 Adam Scott opts for the broomhandle technique
Finchem also stated that 13 of the 15 players on their advisory council were against the ban.
"I would note that the PGA of America came to the same conclusion after consultation with their membership. The Golf Course Owners Association came to the same conclusion as well," Finchem said.
"I think the essential thread that went through the thinking of the players and our board of directors and others was that in the absence of data or any basis to conclude that there is a competitive advantage to be gained by using anchoring - and given the amount of time that anchoring has been in the game, that there was no overriding reason to go down that road.
"An awful lot of amateurs today use anchoring and a number of players on the PGA Tour who have grown up with a focus on perfecting the anchoring method, if you will, did so after the USGA on multiple occasions approved the method years ago.
Tiger Woods has been a vocal critic of anchored putting and was quoted as saying: "We swing all 13 other clubs. I think the putter should be the same."
However three of the last five major championships were won by Ernie Els, Webb Simpson and Keegan Bradley, who all use long putters and are in favour of the technique.